Who is George Santos and why is he in trouble?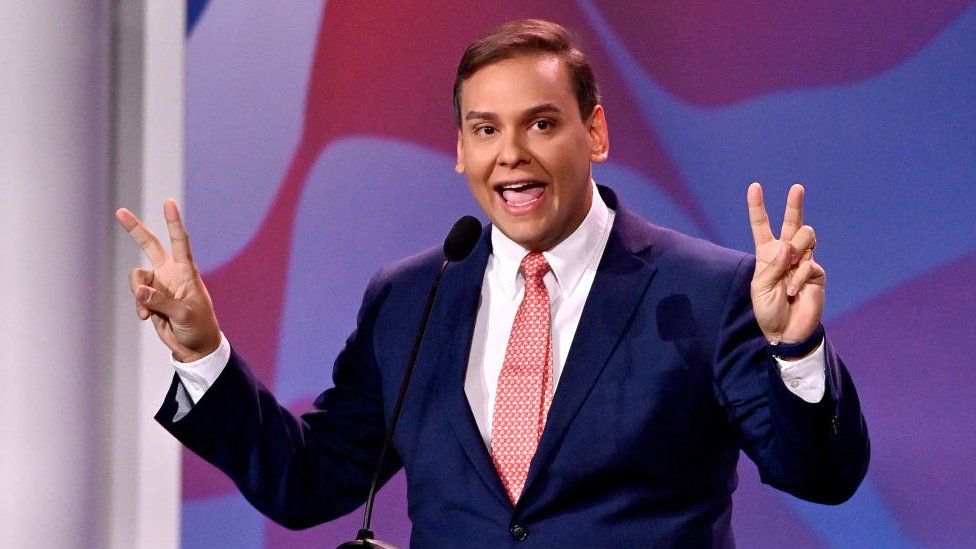 By Bernd Debusmann Jr
BBC News, Washington
US congressman George Santos, who ran for office on an embellished biography, has been charged with a wide range of felonies including fraud.
The 34-year-old lawmaker, who has admitted to being a "terrible liar", has been dogged by allegations of falsehoods and fraud throughout his brief career on Capitol Hill.
A non-existent real estate portfolio, fraudulent claims of college degrees and confusion over whether he's Jewish – or merely "Jew-ish" – are just some of the controversies the New York Republican faced before he was even sworn in to office. He even reportedly claimed to donors that he helped produce the infamous Spider-Man musical on Broadway – he didn't.
Prior to winning his race in last November's midterm elections, Mr Santos billed himself as "the full embodiment of the American dream": an openly gay child of Brazilian immigrants who rose to the upper echelons of Wall Street before entering the world of politics.
ADVERTISEMENT
But his victory lap was short-lived.
Mr Santos' narrative of his life has since fallen into tatters, with the lawmaker admitting large portions of his story were entirely made up. But he is refusing to resign after being charged in a 13-count indictment in New York with wire fraud, money laundering and theft of public funds.
Here's what we know.
Who is George Santos?
According to a biography published online by his campaign – which has since been rewritten – Mr Santos is a first-generation American born in the New York City borough of Queens. His grandparents, the website noted, "fled Jewish persecution in Ukraine, settled in Belgium, and again fled persecution during WWII" before settling in Brazil. His Brazilian-born parents eventually immigrated to the US "in search of the American dream".
Mr Santos claimed to have been educated at Baruch-college in New York City before becoming a "seasoned Wall Street financier and investor" with experience working at prestigious firms including Goldman Sachs and Citigroup.
He has also claimed that he owned 13 properties – which "he'd worked hard for" – and that his mother was "in her office in the south tower" of the World Trade Center on 11 September. As recently as October, his campaign's website claimed that she survived the attack, only to die several years later.
A relative newcomer to US politics, Mr Santos was lauded as the first openly gay Republican to win a seat in the House of Representatives as a non-incumbent with his victory in November.
Why did Santos embellish his life?
The New York Times published a series of stories calling into question large portions of his CV, including his education and his work experience and even his claims to be a college volleyball star.
Other news outlets have since found no evidence that his grandparents fled anti-Semitism in Europe or that he is Jewish, despite earlier boasts of being a "proud American Jew".
Since the initial reports, Mr Santos has admitted that he embellished his background. He never graduated from any university or worked for Goldman Sachs and Citigroup. Rather than owning property across New York, he lives with his sister in Long Island.
It was also revealed his mother died in 2016.
He also acknowledged that he misrepresented his faith, telling the New York Post that he's Catholic and that he said he was "Jew-ish" after learning that his maternal family had a Jewish background.
In an interview with Piers Morgan, Mr Santos said he fabricated his biography and life story to gain acceptance from voters in New York's third district.
"I've been a terrible liar on those subjects and what I'm trying to convey to the American people is I made mistakes in allowing the pressures of what I thought needed to be done [to get elected]," he said.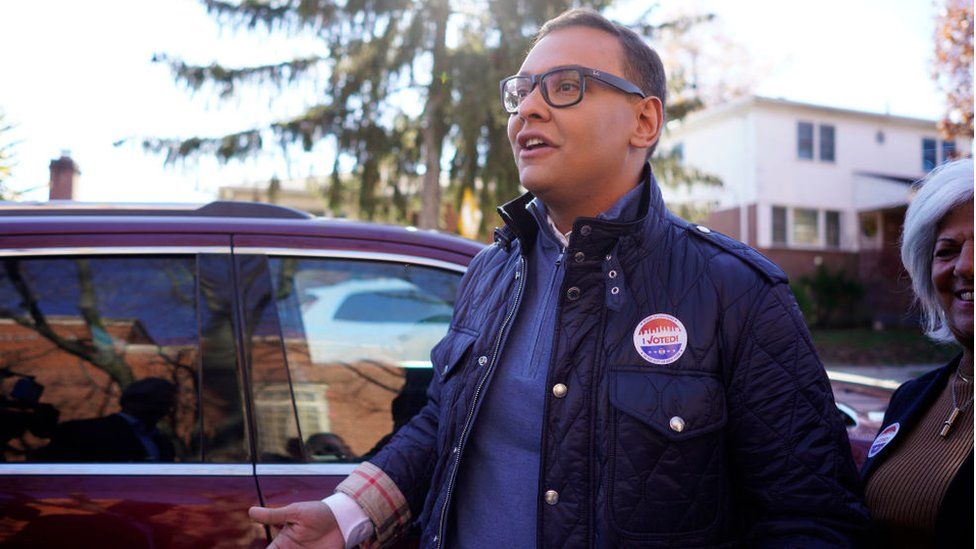 Why is Brazil investigating Mr Santos?
The allegations against him, however, continued to grow.
Authorities in Brazil have confirmed that they plan to revive fraud charges against Mr Santos related to a 2008 stolen chequebook. According to court records, Mr Santos spent about $700 using a false name and stolen cheques in the city of Niterói, near Rio de Janeiro. The case had been suspended because Brazilian authorities were unable to locate him.
In a statement sent to the BBC's US partner CBS, the Brazilian prosecutor charged with the case said that Mr Santos' swearing-in as a congressman means that "he has a certain address where he can be summoned" and that the case can be continued.
Separately, on 29 December, the New York Times reported that Mr Santos' campaign paid $11,000 to a cleaning company for "apartment rental for staff", in addition to a slew of disbursements pegged at $199.99 – exactly one cent below the threshold at which receipts are required by federal law. The campaign expenditures also include $40,000 for air travel, a figure the newspaper noted "resembles the campaign filings of party leaders in Congress, as opposed to a newly elected congressman who is still introducing himself to local voters."
What's next for his political career?
Mr Santos – who was sworn into office on 3 January – vowed outside court after he was charged to run for re-election next year.
Since taking office, Mr Santos has sparred with drag queens on Twitter, co-sponsored a bill to make the AR-15 the "national gun of the United States" and was the deciding vote on the Republican bill to raise the nation's debt ceiling.
But he continued to be plagued by scandal. In February, Derek Meyers, a former staffer, accused the congressman of sexual harassment and said he had filed a police report and sent a letter sent to the Congressional Ethics Committee requesting an investigation. Santos told CNN he "100%" denied the claims.
In the wake of his arrest and indictment, Mr Santos has faced renewed calls to step aside including from fellow New York lawmakers.
"Sooner or later, whether he chooses to or not, both the truth and justice will be delivered to him," Marc Molinaro, a Republican who represents parts of upstate New York, told reporters.
US House Speaker Kevin McCarthy was more circumspect, saying: "I think in America, you're innocent till proven guilty."
More on this story