Robert Bernard Reich (/raɪʃ/ RYSHE;[2] born June 24, 1946) is an American professor, author, lawyer, and political commentator.[3] He worked in the administrations of Presidents Gerald Ford and Jimmy Carter, and served as Secretary of Labor from 1993 to 1997 in the cabinet of President Bill Clinton.[4][5] He was also a member of President Barack Obama's economic transition advisory board.[6]
Reich has been the Chancellor's Professor of Public Policy at the Goldman School of Public Policy at UC Berkeley since January 2006.[7] He was formerly a Lecturer at Harvard University's John F. Kennedy School of Government[8] and a professor of social and economic policy at the Heller School for Social Policy and Management of Brandeis University. He has also been a contributing editor of The New Republic, The American Prospect (also chairman and founding editor), Harvard Business Review, The Atlantic, The New York Times, and The Wall Street Journal.
Reich is a political commentator on programs including Erin Burnett OutFront, CNN Tonight, Anderson Cooper's AC360, Hardball with Chris Matthews, This Week with George Stephanopoulos, CNBC's Kudlow & Company, and APM's Marketplace. In 2008, Time magazine named him one of the Ten Best Cabinet Members of the century,[9] and in the same year The Wall Street Journal placed him sixth on its list of Most Influential Business Thinkers.[10]
He has published 18 books which have been translated into 22 languages,[11] including the best-sellers The Work of Nations, Reason, Saving Capitalism, Supercapitalism, Aftershock: The Next Economy and America's Future, and a best-selling e-book, Beyond Outrage. He is also board chair emeritus of Common Cause and writes his own blog about the political economy at Robertreich.org.[12] The Robert Reich–Jacob Kornbluth film Saving Capitalism was selected to be a Netflix Original, and debuted in November 2017, and their film Inequality for All won a U.S. Documentary Special Jury Award for Achievement in Filmmaking at the 2013 Sundance Film Festival in Utah.[13][14]
In 2015, Reich and Kornbluth founded Inequality Media, a nonprofit digital media company.[15] Inequality Media's videos feature Reich discussing topics relating to inequality and power primarily in the United States, including universal basic income, labor rights protection, the racial wealth gap, affordable housing, and gerrymandering.[16]
Trump committed treason and will try again. He must be barred from running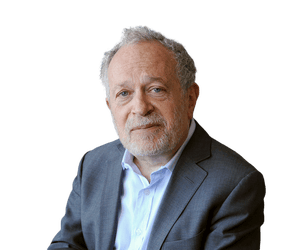 The 14th amendment to the US constitution clearly disqualifies the former president from returning to office. States must actMon 24 Apr 2023 01.00 EDT
The most obvious question in American politics today should be: why is the guy who committed treason just over two years ago allowed to run for president?
Answer: he shouldn't be.
Remember? Donald Trump lost re-election but refused to concede and instead claimed without basis that the election was stolen from him, then pushed state officials to change their tallies, hatched a plot to name fake electors, tried to persuade the vice-president to refuse to certify electoral college votes, sought access to voting-machine data and software, got his allies in Congress to agree to question the electoral votes and thereby shift the decision to the House of Representatives, and summoned his supporters to Washington on the day electoral votes were to be counted and urged them to march on the US Capitol, where they rioted.
This, my friends, is treason.
But Trump is running for re-election, despite the explicit language of section three of the 14th amendment to the constitution, which prohibits anyone who has held public office and who has engaged in insurrection against the United States from ever again serving in public office.
The reason for the disqualification clause is that someone who has engaged in an insurrection against the United States cannot be trusted to use constitutional methods to regain office. (Notably, all three branches of the federal government have described the January 6 attack on the US Capitol as an "insurrection".)
Can any of us who saw (or have learned through the painstaking work of the January 6 committee) what Trump tried to do to overturn the results of the 2020 election have any doubt he will once again try to do whatever necessary to regain power, even if illegal and unconstitutional?
Trump tried these tactics once. The likelihood of trying again is greater because loyalists are in stronger positions
Sure, the newly enacted Electoral Count Reform Act (amending the Electoral Count Act of 1887) filled some of the legal holes, creating a new threshold for members to object to a slate of electors (one-fifth of the members of both the House and the Senate), clarifying that the role of the vice-president is "solely ministerial" and requiring that Congress defer to slates of electors as determined by the states.
But what if Trump gets secretaries of state and governors who are loyal to him to alter the election machinery to ensure he wins? What if he gets them to prevent people likely to vote for Joe Biden from voting at all?
What if he gets them to appoint electors who will vote for him regardless of the outcome of the popular vote?
What if, despite all of this, Biden still wins the election but Trump gets more than 20% of Republican senators and House members to object to slates of electors pledged to Biden, and pushes the election into the House where Trump has a majority of votes?
Does anyone doubt the possibility – no, the probability – of any or all of this happening?
Trump tried these tactics once. The likelihood of him trying again is greater now because his loyalists are now in much stronger positions throughout state and federal government.
Yes, they were held back in the 2022 midterms. But in state after state, and in Congress, Republicans who stood up to Trump have now been purged from the party. And lawmakers in what remains of the Republican party have made it clear that they will bend or disregard any rule that gets in their way.
In many cases, the groundwork has been laid. As recently reported in the New York Times, for example, the Trump allies who traveled to Coffee county, Georgia, on 7 January 2021 gained access to sensitive election data. They copied election software used across Georgia and uploaded it on the internet – an open invitation to election manipulation by Trump allies in 2024.
If anything, Trump is less constrained than he was in 2020.
"In 2016, I declared I am your voice," Trump said last month at the Conservative Political Action Conference, a line he repeated at his first 2024 campaign rally, in Waco, Texas, a few weeks later. "Today, I add: I am your warrior. I am your justice. And for those who have been wronged and betrayed, I am your retribution."
Filing deadlines for 2024 presidential candidates will come in the next six months, in most states.
Secretaries of state – who in most cases are in charge of deciding who gets on the ballot – must refuse to place Donald Trump's name on the 2024 ballot, based on the clear meaning of section three of the 14th amendment to the US constitution.
I hope you appreciated this article. Before you move on, I was hoping you would consider taking the step of supporting the Guardian's journalism.
From Elon Musk to Rupert Murdoch, a small number of billionaire owners have a powerful hold on so much of the information that reaches the public about what's happening in the world. The Guardian is different. We have no billionaire owner or shareholders to consider. Our journalism is produced to serve the public interest – not profit motives.
And we avoid the trap that befalls much US media – the tendency, born of a desire to please all sides, to engage in false equivalence in the name of neutrality. While fairness guides everything we do, we know there is a right and a wrong position in the fight against racism and for reproductive justice. When we report on issues like the climate crisis, we're not afraid to name who is responsible. And as a global news organization, we're able to provide a fresh, outsider perspective on US politics – one so often missing from the insular American media bubble.
Around the world, readers can access the Guardian's paywall-free journalism because of our unique reader-supported model. That's because of people like you. Our readers keep us independent, beholden to no outside influence and accessible to everyone – whether they can afford to pay for news, or not.
Betsy Reed
Editor, Guardian US