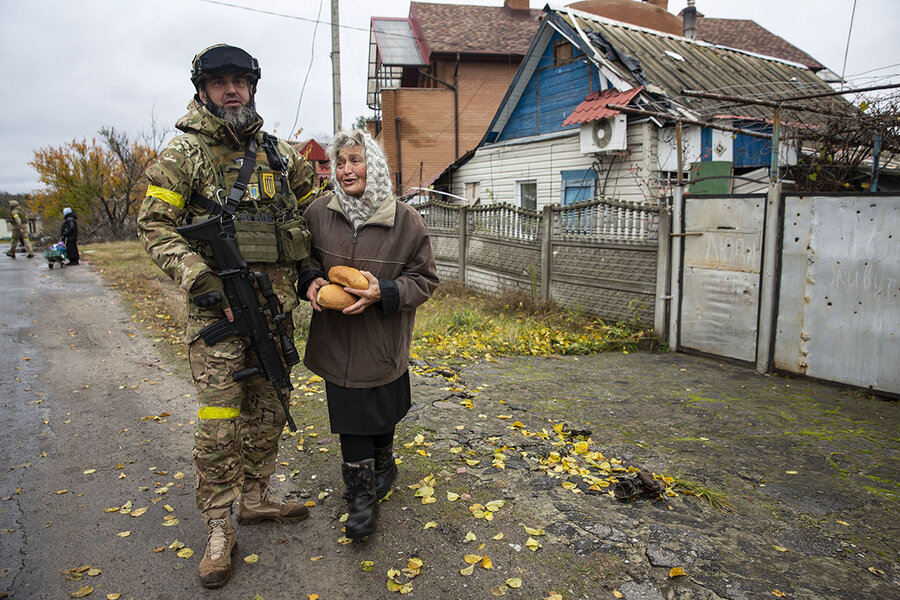 Dominique Soguel
Soldiers distribute bread to shellshocked residents of Sviatohirsk, Ukraine, Oct. 27, 2022. For months, shifting front lines in eastern Ukraine had left older residents cut off from basic goods and services, as well as family.
Under occupation in Ukraine, a dairy cow makes a difference
January 9, 2023|
SVIATOHIRSK, UKRAINE
Late last October, soon after Ukrainian forces had recaptured his village from the Russians, Anatolii jumped on his bicycle and rode to the small town of Sviatohirsk. He had an old-age pension to collect, along with leukemia medicine for his wife.
For months, shifting front lines in eastern Ukraine had left Anatolii – who, like many in the region, was cautious about sharing his last name – cut off not only from pensions and medicines, but also from basic goods and services.
Fighting between Ukrainian and Russian forces partially destroyed Anatolii's home in Yarove, a village of 600 people. The electricity went off in April, obliging him to cut firewood in the forest. He and his wife survived, he says, thanks to a dairy cow, a vegetable patch, and an orchard.
Older people in eastern Ukraine have borne hard lives for decades. Surviving Russian military occupation last year required them to tap even deeper reserves of endurance.
"It was anarchy in our village," recalls Anatolii, a retired factory worker with a wiry frame and an unkempt, silver beard. "We had neither Russians nor Ukrainians in charge. No one asked us anything. Nobody helped us."
Nationwide, about 1 in 4 Ukrainians are over age 60, but across eastern Ukraine, the majority of those who did not evacuate when fighting broke out were older people for whom the rigors of Russian occupation were often augmented by frailty, ill health, and isolation.
Many of them underestimated the risks until it was too late to leave. Sometimes evacuations were organized with no consideration for the needs of older or disabled people: Evacuation notices came digitally and at short notice, but older villagers did not necessarily have smartphones, or any way of getting quickly to designated assembly points.
Others never even considered leaving home – unwilling to leave properties and orchards they've owned since the collapse of the Soviet Union.
"There just wasn't a lot of information," notes Jane Buchanan of HelpAge, an international organization providing support for older people in Ukraine. Residents were simply told "we are going to evacuate you," she points out. "To where? To what? It wasn't an obvious choice."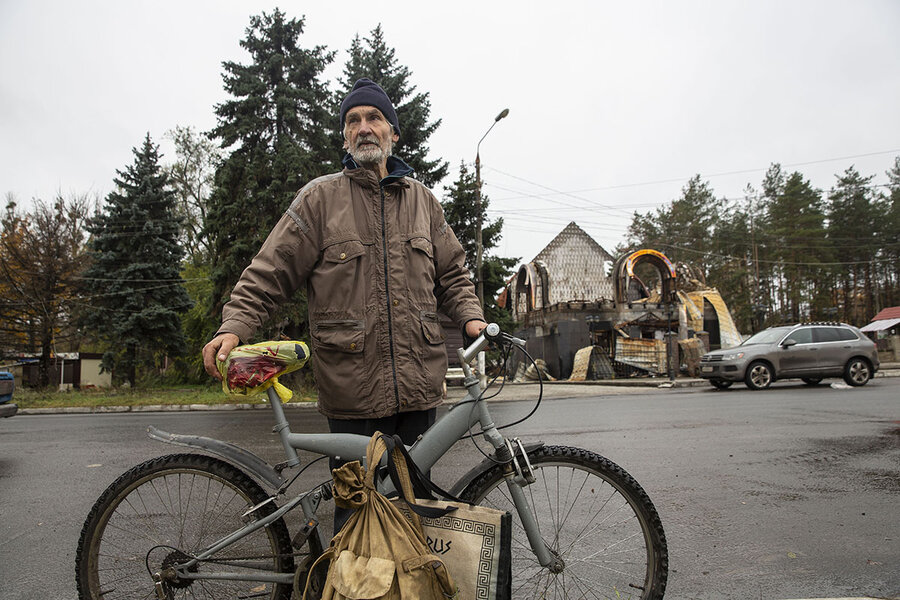 Dominique Soguel
Anatolii stands with his bicycle on a road in the town of Sviatohirsk, Ukraine, after collecting his pension. "It was anarchy in our village," he says about the period of fighting between Ukrainian and Russian forces in his area of eastern Ukraine. "Nobody helped us."
Counting on divine protection
That doesn't stop Ukrainians from other regions of the country from viewing with suspicion those in the east who stayed in their homes throughout the Russian occupation.
"How was the food under Russia?" quips one soldier as older people wrapped against the cold in now loose-fitting coats line up for food parcels.
But the state maintained their pension rights, and paid six months of back pensions when the Kyiv authorities retook control of the Sviatohirsk region, says Anatolii, even if they were worth only $60 a month.
The fighting around Sviatohirsk has left a wasteland of fallen trees, charred buildings, and broken families. Anatolii has a daughter who has been living in Russia since 2009. He has lost touch with another daughter living in Ukraine, but knows that Russian shelling during an advance in May killed his granddaughter Katja. Recounting the pain of that loss still brings tears to his eyes. "There is nothing good about this war," he says.
Eastern Ukraine has been the scene of conflict since 2014, when Russian-backed separatists created two breakaway republics in the mineral-rich, industrial regions of Donetsk and Luhansk. The east has also been at the heart of some of the fiercest battles since full-scale war began last February, among them the battle for Sviatohirsk.
During that battle, 75-year-old Lidiya Staritskaya was hit in the face by shrapnel while out in her garden collecting raspberries to share with monks, nuns, and civilians sheltering at a nearby monastery.
Dominique Soguel
Lidiya Staritskaya at her house in Sviatohirsk, Ukraine, Oct. 27, 2022. She credits the Virgin Mary with sparing her life during the battle for Sviatohirsk.
Her home, like the Orthodox monastery, which is loyal to the Orthodox patriarchate in Moscow, sits on a high bank of the Donets River, which was in the line of Russian fire. But she never thought of going anywhere else. "The only way I leave my home is dead," she says, handing out homemade savory pastries.
Deeply religious, she credits the Virgin Mary with sparing her life. It is a sentiment shared by others who point to the shattered hands of a Virgin Mary statue at the monastery gate as evidence of divine protection.
Pinned down for weeks by cross-river shelling, Ms. Staritskaya survived by eating produce she grew in her garden and drinking water from her well, she says. "Once a soldier brought me bread," she remembers. "He said he did it only because he believed in God."
"I think he was angry because I did not leave," she reflects. "But if I had left, I wouldn't have a home anymore."
She now shares her pastries with Ukrainian soldiers newly stationed in the area, but makes little secret of her sympathies for Moscow and for Russia, fed by a nostalgic worldview in which the Soviet era is remembered as the good old days of unity between Slavic peoples.
When the news is bad …
The escalation to all-out war in 2022 reconfigured the map yet again and left family members cut off from each other for months on end. Phone networks went down in many of the areas that came under Russian occupation last year. Now that they are working again, news can bring temporary relief from the pain of isolation, or it can mean heartbreak.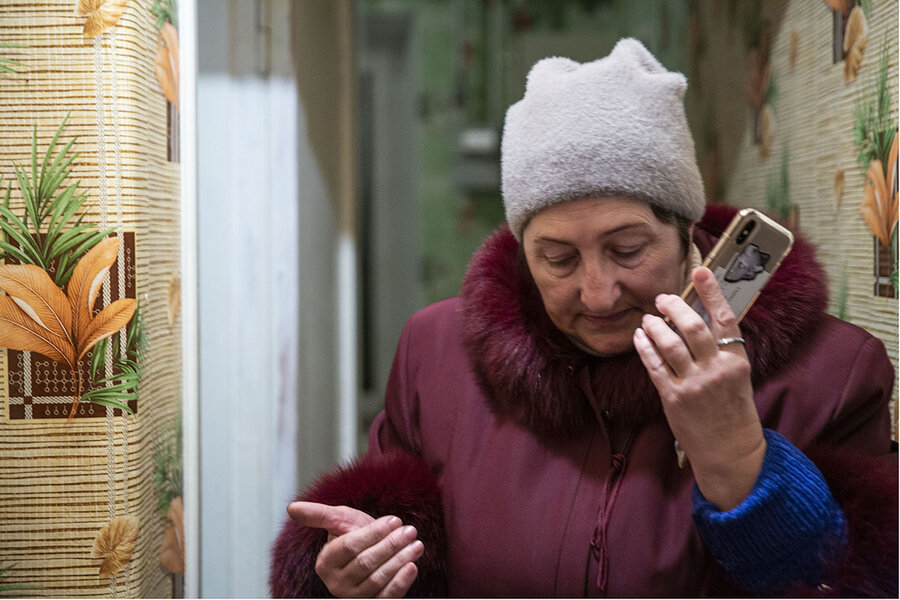 Dominique Soguel
Alevtyna Shlynkina stands in the hallway of her mother's apartment in Kramatorsk, Ukraine, moments after discovering that she had died, alone, in the bathroom, Oct. 25, 2022.
The Ukrainian advance, which liberated the city of Lyman, gave Alevtyna Shlynkina a chance to travel to Kramatorsk; it had been some time since she had heard from her mother, who lived there.
Nervously, she struggled to turn the key to the front door of her mother's apartment. Inside, the upside-down state of the rooms, belongings and food scattered all over the floor, testified to the challenges of looking after yourself at an advanced age in wartime. Ms. Shlynkina found her mother's crumpled, lifeless body in the bathroom, dressed in a floral nightgown.
"Oh mother, mother, mother," she wept. A neighbor, Vera Lysenko, peered in from the doorway, her wide-eyed expression suggesting both sympathy and her fear of suffering a similar fate.
Back in Sviatohirsk, Galina Gontarenko, about to turn 80, shuffles down rubble-filled streets. The ordeals and indignities she endured during occupation included drinking radiator water from her heating system and being shot at by Russian soldiers near her apartment.
Offered the use of a telephone to call her son's family in Dnipro, she breaks down in tears of gratitude. Her daughter-in-law seems happy to hear from Ms. Gontarenko at last, but there is no talk of her joining the family.