Biden's top diplomat says Trump was right on China

Political correspondentJan 20, 2021 – 7.00pmSaveShare
In comments that would be reassuring to the Morrison government, incoming Secretary of State Tony Blinken described the revitalisation of America's core alliances as "force multipliers of our influence around the world" and would seek to stop China setting the rules and norms for the 21st century.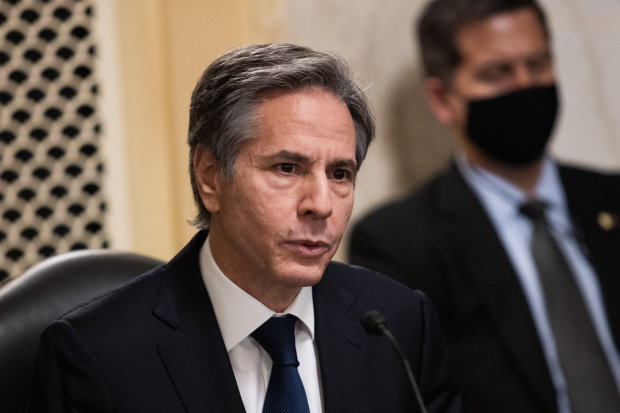 During his Senate confirmation hearing, Mr Blinken also backed the Trump administration's declaration that China's treatment of ethnic minority Uighurs amounted to genocide, while warning that any use of military force against Taiwan would be a "grievous mistake".
"As we look at China, there is no doubt that it poses the most significant challenge of any nation state to the United States," Mr Blinken said.
"I think, as we're thinking about how to deal with China … we have to start by approaching China from a position of strength, not weakness.Advertisement
"When we are acting alone against Chinese excess in commercial areas, we are about 25 per cent of world GDP. When we've got allies and partners with us, depending who it is, it's 50 to 60 per cent. It's a much heavier weight for China to ignore."
The Biden administration's approach would include "not denigrating our allies" and not pulling back from international bodies and ceding influence to China.
"I believe that President Trump was right in taking a tougher approach to China," Mr Blinken said.
"I disagree very much with the way he went about it in a number of areas but the basic principle was the right thing, and I think that's actually helpful in our foreign policy."
Australian connections
Research director of the Perth USAsia Centre Jeffrey Wilson said Mr Blinken's comments would be welcome in Canberra.
"For Blinken to come out and say we see this behaviour from China and we are going to step in, this is strongly in our national interest," he said.
Mr Blinken will be a key figure for the Morrison government in dealing with Washington. While he is familiar to Canberra's diplomats from his time in the Obama administration, Mr Blinken also has a personnel connection to Australia: his late stepfather, Samuel Pisar, was educated in Melbourne after surviving the Holocaust.
But government sources have identified the incoming National Security Adviser Jake Sullivan as the major point person in establishing a relationship with the new administration.
Mr Sullivan, another Obama-era veteran, proactively sought to weigh in on behalf of the new administration when he tweeted support for Australia after the Chinese Foreign Ministry shared a doctored image of an Australian soldier committing a war crime.
"That was an important signal of solidarity and their thinking, unprompted by us," said a senior government source.
In addition to Mr Sullivan, Mr Biden has named his former deputy national security adviser, Ely Ratner, as the top adviser on the Pentagon's Asia policy. Mr Ratner has been described as a China hawk.
Mr Ratner's appointment comes after Mr Biden tapped another former Obama veteran, Kurt Campbell, for the new role as Indo-Pacific co-ordinator.
Mr Campbell has been described as "Mr Australia" and one of the officials who will work under him on the National Security Council, Ed Kagan, will be another conduit for Australia in his role as senior director for East Asia and Oceania. Mr Kagan has been a diplomat posted to Canberra.
Building ties
While Scott Morrison had a strong relationship with Mr Trump's vice-president, Mike Pence, there is a feeling in the government that Mr Biden's second-in-command, Kamala Harris, will not play a major role in foreign affairs as the new administration focuses on domestic challenges. Ms Harris also has the casting vote in a deadlocked Senate, tying her more to Washington.
The Morrison government has adopted a multi-pronged approach to building ties with the new administration that began before Mr Biden's election.
This included ambassador to the US Arthur Sinodinos and other diplomats making private contact with potential appointees or through semi-public events such as webinars hosted by think-tanks.
Since the election, many of these officials became reluctant to talk to avoid a repeat of the Russian controversy involving Mr Trump's short-lived national security adviser, Michael Flynn.
However, Australian officials have spoken to "influencers" or grey eminences such as veteran Democrat official John Podesta, who will not have a role in the administration but whose words carry weight.