December 17, 2020
During times of universal deceit, telling the truth becomes a revolutionary act
Does China Own Nancy Pelosi And The Democratic Party?
BY CLOVERCHRONICLE ON MARCH 25, 2020
Earlier today, Speaker of the House Nancy Pelosi (D-CA) chose to delay the Coronavirus Relief Bill vote after spending less than 2 minutes convening on the House floor:
Meanwhile, American workers and the businesses that employ them continue to suffer economic hardship due to a nation-wide lockdown of non-essential goods and services.
At a time when temporary financial relief is needed from the government, Democratic politicians are showing their true colors by continuing to play ridiculous games of identity politics and partisanship.
At this point, some of you might be asking: Why are they refusing to help the American people during an unprecedented crisis that is threatening not only lives, but also livelihoods?
The fact that Democratic House representatives, led by Speaker Pelosi, are blockading a relief bill that is meant to provide working-class Americans with the means to obtain the bare necessities they need to live (food, water, shelter, etc.) is a testament to how little they actually care about this country.
Not surprisingly, this isn't the first time Democrats prioritized their own self interests, or even those of foreign entities, over Americans.
Last year, we published a story about how certain Democrats were reportedly being paid off by Mexican drug cartels to keep the southern border wide open. Here is a short snippet from that article:
Jeffrey Peterson, a former Democrat and founder of Quepasa (MeetMe), thinks the corruption between drug cartels and Mexican government officials has leaked over to the United States; more specifically, to the Democrat party.

This may be why Democrats are fighting tooth and nail to stop any kind of border wall legislation. They do not want, and will never support, a physical barrier between the U.S. and Mexico as long as the (alleged) corrupt payoffs from cartel killers continue to line their pockets!
Evidence to support this notion was presented, including information about $100 million bribes between cartel kingpins and the former Mexican president. Most importantly, Wikileaks allegedly revealed it had obtained data regarding large donations received by none other than the Clinton Foundation, which was put to use supporting Hillary Clinton's 2016 presidential campaign.
With that said, is it really hard to believe Pelosi and her minions have yet another agenda up their sleeve? After all, former Chicago Mayor Rahm Emanuel recently repeated his infamous "rallying cry" from the 2008 recession: Never let a crisis go to waste.
It is well known that many of our nation's top politicians either entered their positions with an abundance of wealth, or gained it through lobbying and other activities after assuming office.
These 'other activities' could unfortunately include forms of corruption, such as the example we gave earlier with Mexican drug cartels.
Even amidst the COVID-19 pandemic, China continues its mission of overtaking the United States in GDP (Gross Domestic Product) earnings and becoming number one in economic superiority:
China is on the cusp of keeping a big promise — a vow to double its GDP and income in a decade and take the country to the forefront of the global economic power structure.

…China has climbed to No. 2 in the world, with a GDP of $13.1 trillion that, while still trailing the U.S., keeps getting closer. Forecasters expect that growth just north of 6% in 2020 will get to the stated goal of doubling the economy from 2011-20.
Now seems like the perfect opportunity for China to finally surpass us in fiscal gains since our economy is in shambles.
Who better than Nancy Pelosi and other corrupt American politicians to help propel the Chinese forward? They have shown time and again they care nothing for not only their own constituents, but fellow countrymen.
RELATED: GOP Mocks 'Nancy Antoinette' After Pelosi Shows Off High-end Freezer Full Of Ice Cream
Pelosi Defends Swalwell After His Ties to Alleged Chinese Spy Are Revealed
Andrew Trunsky / December 10, 2020 / 
At her weekly news conference on Capitol Hill on Thursday, House Speaker Nancy Pelosi, D-Calif., dismissed Republicans' national security concerns leveled against one of her fellow California Democrats. (Photo: Drew Angerer/Getty Images)
House Speaker Nancy Pelosi backed Rep. Eric Swalwell, D-Calif., on Thursday in response to revelations of his interactions with an alleged Chinese spy, accusing the GOP of harping on the issue to distract from QAnon.
"I don't have any concern about Mr. Swalwell," Pelosi, D-Calif., told reporters during her weekly press conference Thursday morning.
"I do think that it is unfortunate that [House Minority Leader Kevin] McCarthy is trying to make an issue of this. But you know what he's trying to do. He's trying to deflect attention from the fact that he has QAnon in his delegation over there," Pelosi added, referring to several incoming GOP lawmakers who have previously supported the baseless conspiracy theory. 
The left is actively working to undermine the integrity of our elections. Read the plan to stop them now. Learn more now >>
McCarthy called for Swalwell to lose his seat on the House Intelligence Committee after Axios reported that Christina Fang, an alleged Chinese spy, met Swalwell when he was a city council member in California and stayed in contact with him after he was elected to Congress.
"He is jeopardizing national security," McCarthy said Thursday on the Fox News Channel. "When did Nancy Pelosi know of this, and why did she maintain him on the [Intelligence] Committee?"
Fang allegedly helped fundraise for Swalwell's 2014 reelection campaign and was helping place an intern in his office, Axios reported Tuesday.
Swalwell said he cut off all contact with Fang once alerted by the FBI, and has not been accused of any illegal wrongdoing.
Republicans criticized Swalwell's past connection to Fang, given the lawmaker's consistent criticism of President Donald Trump during the investigation into Russian interference in the 2016 election, which found that the president and his campaign did not collude with the Russian government.
"It was all Russia, Russia, Russia," said Rep. Brad Wenstrup, R-Ohio, on Thursday on Fox News. "He showed no concern about China, which if he went through an event of some type, then he should be greatly concerned about China, and we didn't hear from him on that."
"Oh, my gosh, talk about karma," said Rep. Chris Stewart, R-Utah, on Fox News. "If this doesn't show that God has a sense of humor, what else does?"
Swalwell responded, insisting that the Republican attacks are in response to his frequent criticism of Trump.
"To do that against a critic of the president, they may think they're going to silence me," Swalwell said Wednesday on CNN. "They are not going to silence me, but what they are going to do is, they are going to make others think twice when they are asked to sit down and provide defensive information about people like this."
Exclusive– Congressman: Nancy Pelosi Blocking Investigation into Chinese Coronavirus Origins, Tax Money to Wuhan Lab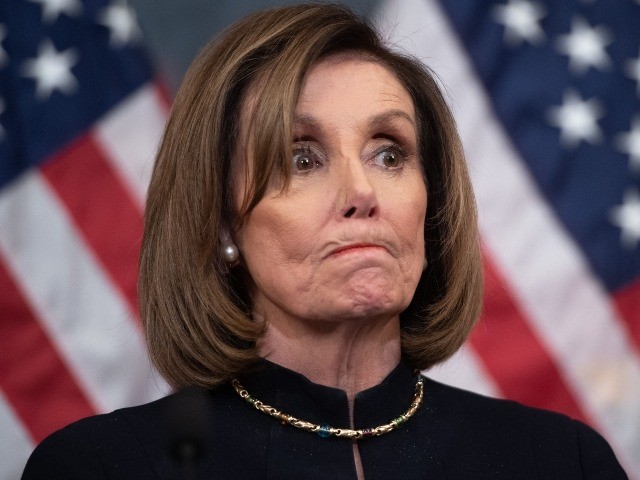 MATTHEW BOYLE3 May 2020Washington, DC24,90011:00
Rep. Guy Reschenthaler (R-PA) told Breitbart News this weekend that House Speaker Nancy Pelosi would rather investigate President Donald Trump again than focus on the actual origins of the Chinese coronavirus and U.S. tax dollars that went to the Wuhan Institute of Virology from which intelligence officials increasingly believe the virus leaked.
Appearing on Breitbart News Saturday on SiriusXM 125 the Patriot Channel, Reschenthaler discussed his efforts to investigate tax dollars that flowed through a New York firm to the Wuhan lab. He said that Pelosi and House Democrats are not interested in holding the Chinese Communist Party accountable and, instead, want to focus their oversight efforts on politically harming President Trump again just like they tried and failed with the partisan impeachment last year and earlier this year.
"We should have an investigative body looking at these grants, but Nancy Pelosi is not going to do that," Reschenthaler said. "So you have myself and House Republicans. I can tell you I'm going to continue to look into these grants. I'm going to continue to look into the Department of Homeland Security as well to see what grants are going from there to China. I'm also looking at defunding the World Health Organization and we can talk about that as well. But the bottom line of the Democrats' behavior is this: They hate this president so badly that they would rather side with the Chinese Communist Party than defend Americans and defend our spending and spend wisely and just be honest. That is their hatred for President Trump and disdain for President Trump's supporters."
Reschenthaler wrote a letter this week to Secretary of Defense Mark Esper inquiring about a Pentagon grant to EcoHealth Alliance, Inc., a New York firm that has had a history of funding the Wuhan Institute of Virology with subgrants from American taxpayers. The Pentagon grant the congressman was inquiring about was for research into bat-borne zoonotic diseases and their potential as weapons of mass destruction or biological weapons. While it is unclear if that grant saw U.S. taxpayer money flowing from it out to the Wuhan lab, it is known that another grant that EcoHealth Alliance received did partially spend U.S. tax dollars in the Chinese lab.
That grant, from the National Institutes of Health (NIH) — in particular the National Institute of Allergies and Infectious Diseases (NIAID), which is run by the now-famous Dr. Anthony Fauci — saw U.S. tax dollars sent to EcoHealth Alliance for researching coronaviruses from bats flow out to the Chinese lab in Wuhan. Some of the money went to other labs around the world too, an NIH official confirmed to Breitbart News last week. But the NIH was so concerned about the money and this lab in Wuhan that the government notified EcoHealth Alliance that it would be investigating the matter and that any funds to the Wuhan lab must be halted while the investigation occurred.
"The NIH funded EcoHealth Alliance, which then, in turn, turned around and partially funded the Wuhan Institute of Virology," Reschenthaler told Breitbart News. "The DOD also gave EcoHealth Alliance $6.5 million in a grant, and like you said, that grant was to understand bat-borne zoonotic disease in context with weapons of mass destruction. So what I'm trying to find out is whether or not the DOD funding that went to EcoHealth also went to the Wuhan Institute of Virology. We know that the NIH funding did, and we also know that all money is fungible, but I want to see if we can trace that money to Wuhan to see how much and to what extent the DOD and American taxpayers actually funded the Wuhan Institute of Virology."
What is perhaps most interesting about all this is how little the Democrats on Capitol Hill seem to care about the origins of the virus in Wuhan, China, or about U.S. taxpayer dollars flowing to this lab in China. Many Democrats have brushed off holding China accountable for the virus and, instead, intend to focus their efforts on attacking President Trump over the Chinese coronavirus. Pelosi, whose Articles of Impeachment effort against Trump failed in grand fashion this year as the U.S. Senate acquitted the president, has even launched the creation of a select committee to investigate the Trump administration's handling of the coronavirus pandemic — a select committee that Republicans are considering boycotting.
The members Pelosi named to the committee last week are highly partisan Democrats. First and foremost, Pelosi named House Majority Whip Rep. Jim Clyburn (D-SC) — the Democrat who publicly mused that the chaos of the pandemic provided Democrats an opportunity to remake America in their vision — to chair it. Then she named several others directly involved in the failed effort to impeach President Trump, including House Oversight Committee chairwoman Rep. Carolyn Maloney (D-NY) and House Financial Services Committee chairwoman Rep. Maxine Waters (D-CA). Maloney and Waters chair two of the committees that were involved in the partisan impeachment inquiry of President Trump.
The others — House Small Business Committee chairwoman Rep. Nydia Velazquez (D-NY) and Reps. Jamie Raskin (D-MD), Bill Foster (D-IL), and Andy Kim (D-NJ) — all voted for impeachment as well. Raskin, as a member of the House Judiciary Committee, gained particular prominence during hearings last year.
As such, Rep. Kevin McCarthy — the House GOP leader — has said he does not believe Republicans will participate in the sham investigation because he sees it simply as "another impeachment committee."
Reschenthaler said on Breitbart News Saturday that if Americans want Congress to have a real investigation into the origins of the Chinese coronavirus and hearings about their tax dollars going to this lab in Wuhan, Republicans would need to retake the House majority in November and commence those hearings next year.
"It's imperative that we as House Republicans take back the House in this next election because Nancy Pelosi and the far-left Democrats are thwarting everything we do," Reschenthaler said. "I do have to say I cringe when the media says 'Nancy Pelosi and the Squad' because that minimizes how far left this party has gone. It's just not the Squad. It's not just Nancy Pelosi. It's most of their members. Look at the Green New Deal. When that was floated, half of their co-sponsors were on the Green New Deal. Most of these Democrats vote 90 plus percent of the time with [Rep. Alexandria Ocasio-Cortez]. This party has moved drastically to the left to the point of siding with the CCP over Americans. They don't want to get to the bottom of these grants and they also don't want my resolution run on the floor about defunding the World Health Organization or at least getting Dr. Tedros to resign and getting an international organization to investigate how the World Health Organization was either grossly negligent in dealing with the Wuhan virus or how they worked hand-in-glove with the Chinese Communist Party in trying to cover up the virus early on. But that's the extent of their hatred, again, of this president and his supporters where they will not run these bills and they will not do these investigations because, again, they would rather side with the CCP than do the right thing."
To retake the House majority, Republicans need to win just 18 net seats back from Democrats. There are 30 districts across America that Trump won in 2016 currently represented by a Democrat, so the prospect is very possible that the GOP could flip the House back. In the meantime, however, while Democrats on Capitol Hill dither in partisan politics, the Trump administration and the U.S. Intelligence Community are investigating these matters, Reschenthaler said.
"The Intel Community hasn't ruled out the virus may have originated in the lab," Reschenthaler said. "We know that. That's coming from the Intel Community. We also know that the NIH in a letter to EcoHealth stated that they believe — this is again the NIH letter I'm stating — that they believe the virus may have originated in the lab. That was the Wuhan Institute of Virology in Lab IV. We know that. But I think whether or not this disease came from a bat through a wet market or it came from a lab, we've got to see where it originated and we've got to see what we can do to make sure we stop these pandemics in the future. That could be something like encouraging other nations to stop interactions at wet markets, which should be happening anyhow. If it originated in a lab and somehow leaked from the lab, we shouldn't be funding labs that study virology and weapons of mass destruction in terms of biological weapons. We shouldn't fund these labs unless they have procedures in place where the disease won't leak out and kill 60,000 Americans and hundreds of thousands around the world. This is a very responsible thing to do as good stewards of taxpayer money."
Reschenthaler also hopes to get answers as to whether the Chinese Communist Party, while it was getting these U.S. tax dollars into the Wuhan Institute of Virology, was even being forthcoming with U.S. officials about research that was compiled there on such coronaviruses, including potentially the one plaguing the planet right now.
"I'd like to add, as we get to the bottom of this, I'd like to see what information we were getting back from the Institute of Virology in Wuhan because something tells me the Chinese Communist Party was taking the money from EcoHealth Alliance — which was, again, a large part came from the United States and our taxpayers — then doing this research, and I don't know if they were giving us any actual data or scientific findings from what we were funding," Reschenthaler said. "They certainly didn't allow American doctors and scientists into Wuhan at the start of this disease. They've kept us shut out for a large part. So I want to see if we were being taken advantage of. I suspect that we were by the Chinese Communist Party, and I want to see in the future, when we do give these grants, there is transparency and we get the research that comes from us funding these labs."
Breitbart News Saturday airs on SiriusXM Patriot 125 from 10 a.m. to 1 p.m. Eastern.