China hits back at democracy act by suspending US military port calls in Hong Kong
Beijing says it is also sanctioning US-based NGOs for supporting violence in the special administrative region
But moves are not likely to have a big impact on trade talks or military relations with the United States
2 Dec, 2019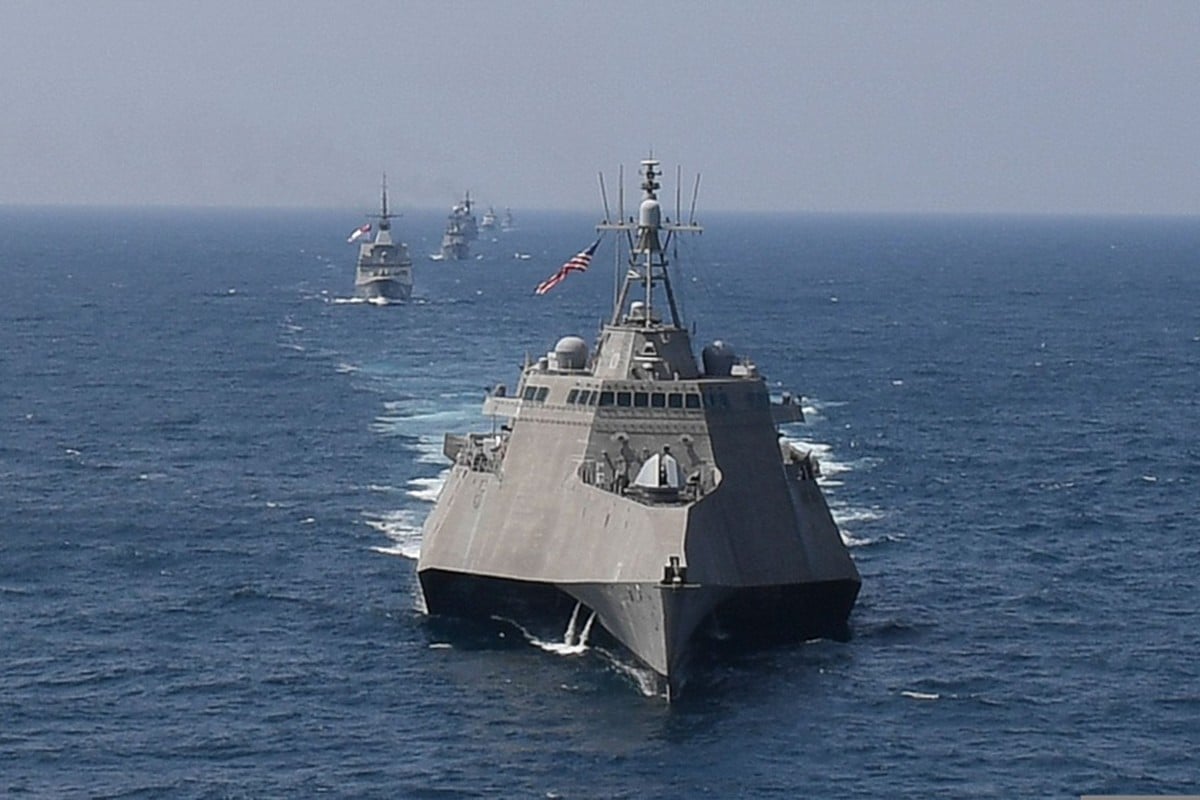 Beijing is suspending its review process for requests by US Navy vessels to visit Hong Kong. Photo: AFP
China has hit back at the United States over a law increasing scrutiny on Hong Kong, announcing on Monday that it is suspending visits of US military vessels and aircraft to the city and sanctioning various US-based non-government organisations.
But observers said the retaliation was a calculated way to handle rising calls at home to take action against Washington without affecting ongoing trade negotiations between the two nations.
The announcement from the foreign ministry that Beijing would suspend its reviews of requests made by US military aircraft and vessels came a week after US President Donald Trump signed the Hong Kong Human Rights and Democracy Act, which allows Washington to impose sanctions on officials deemed to have violated human rights in Hong Kong.
"In response to the unreasonable behaviour of the US side, the Chinese government has decided to suspend reviewing the applications for US warships to go to Hong Kong for [rest and] recuperation as of today," ministry spokeswoman Hua Chunying said.
Hua also said China had sanctioned NGOs such as Human Rights Watch for supporting violent activities in Hong Kong. Other NGOs targeted include the National Endowment for Democracy, the National Democratic Institute for International Affairs, the International Republican Institute and Freedom House.
"There is a lot of evidence proving that these NGOs have supported anti-China forces to create chaos in Hong Kong, and encouraged them to engage in extreme violent criminal acts and 'Hong Kong independence' separatist activities," she said.SUBSCRIBE TO US China Trade WarGet updates direct to your inboxBy registering, you agree to our T&C and Privacy Policy
"They have a large responsibility for the chaos in Hong Kong, and deserve to be sanctioned and pay the price."
Derek Mitchell, president of the National Democratic Institute for International Affairs, said Beijing's claim the organisation was a "black hand" behind the months-long protests was "patently false" and an attempt to spread misinformation.
Human Rights Watch said it supported human rights and the people who defended them in Hong Kong and worldwide.
It had repeatedly called on Hong Kong authorities not to use excessive or unlawful force to suppress peaceful protests and to establish an independent commission to investigate excessive use of force by the police.
"We have called on protesters and individuals who oppose them to refrain from violence. We have also repeatedly called on the Chinese central government, as well as the Hong Kong government, to fulfil the Hong Kong people's rights to vote and to stand for elections," the group said.
"Rather than target an organisation that seeks to defend the rights of the people of Hong Kong, the Chinese government should respect those rights."
On Monday, China called on the US to stop meddling in Hong Kong affairs, Hua said, adding that Beijing could take further action to protect its national sovereignty and security.Beijing said last week that it would take strong countermeasures against Washington, and accused the US of interfering in Hong Kong.
Tension between the two countries has risen since June, when mass protests erupted in Hong Kong against a now-withdrawn extradition bill.
US officials and politicians accused Hong Kong police of brutality against protesters and demanded Beijing ensure the autonomy of the city, prompting Beijing to accuse Washington of gross interference in its internal affairs.
These organisations have always been sensitive and unpopular in terms of the mainland. To call them out is more like a warning, acknowledging that these organisations and their positions on Hong Kong have crossed the line Liu Weidong, a US affairs specialist from the Chinese Academy of Social Sciences
Trump had said he had asked Chinese President Xi Jinping not to send in troops to Hong Kong, otherwise Hong Kong would have been "obliterated in 14 minutes".
The US president also signed the Protect Hong Kong Act into law, prohibiting the sale of US-made munitions such as tear gas and rubber bullets to the city's authorities.
"I signed these bills out of respect for President Xi, China and the people of Hong Kong," Trump said. "They are being enacted in the hope that leaders and representatives of China and Hong Kong will be able to amicably settle their differences leading to long-term peace and prosperity for all."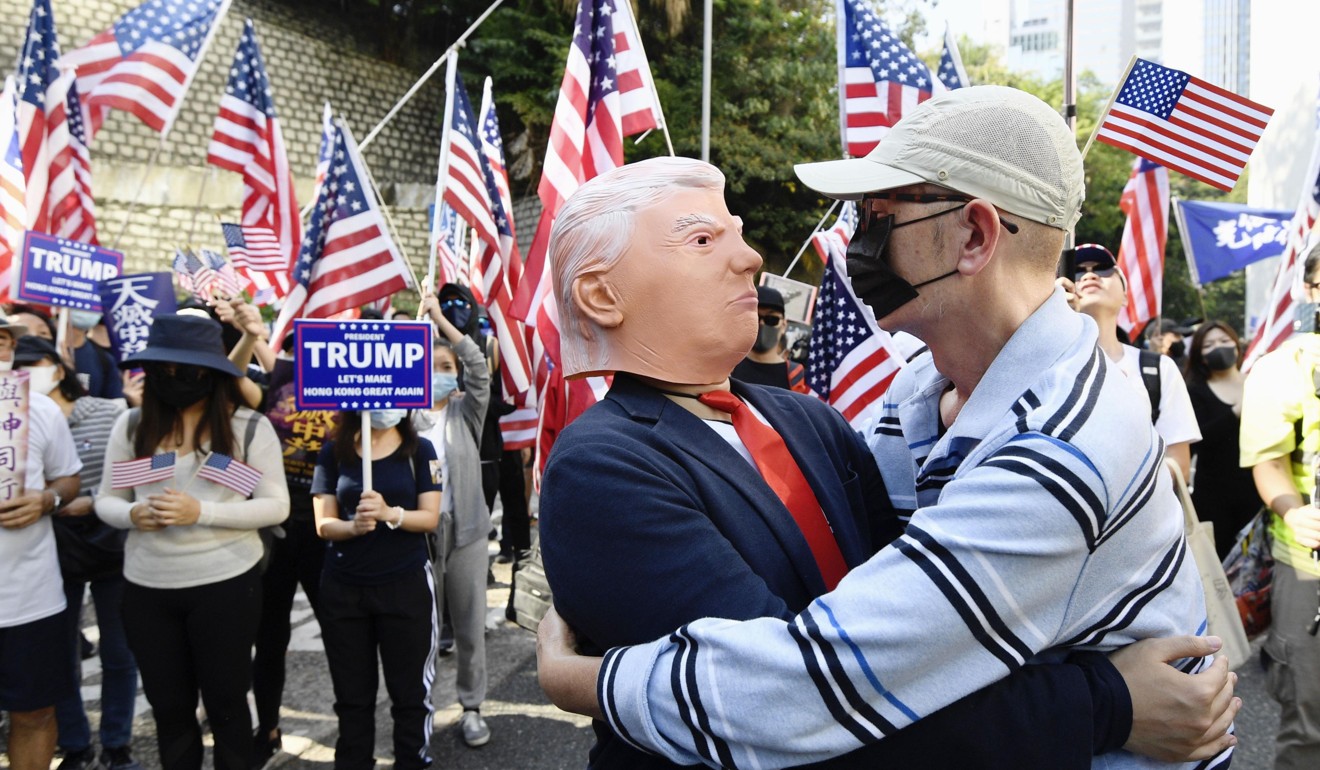 A protester wearing a Donald Trump mask joins a pro-US rally on Sunday. Photo: KyodoThe moves come as China and the US try to negotiate a "phase one" trade deal, with China insisting that US tariffs be rolled back as part of the agreement, according to Chinese state media.
A new batch of US tariffs on Chinese imports is due to go into effect on December 15, putting an extra 15 per cent duty on US$156 billion worth of Chinese goods. China has said it will impose another round of tariffs on US$75 billion worth of US goods – including soybeans – on December 15, in line with the US schedule.
Liu Weidong, a US affairs specialist from the Chinese Academy of Social Sciences, said the measures announced on Monday were a gesture and would not have a big impact on the US and the affected NGOs.
"These organisations have always been sensitive and unpopular in terms of the mainland. To call them out is more like a warning, acknowledging that these organisations and their positions on Hong Kong have crossed the line," Liu said.
He also said China's options were limited because it was trying to stop the signing of the laws from affecting other aspects of the relationship with the US, such as the trade war.
The US military has made port calls in Hong Kong from time to time, including in November last year when the USS Ronald Reagan supercarrier and its strike group visited.
However, in August, China rejected requests for Hong Kong port visits by the amphibious transport dock USS Green Bay and the guided-missile cruiser USS Lake Erie as US lawmakers criticised the Hong Kong police force's handling of the protests.
In September last year, Beijing also refused a port call by the amphibious assault ship USS Wasp just days after Washington sanctioned the Chinese military over arms purchases from Russia.Nevertheless, defence chiefs from both countries have pledged to make military ties the "stabiliser" of China-US relations.
A retired Chinese major general familiar with military relations with the US said the ministry's announcement was a diplomatic measure rather than an effort to damage military ties.
"The American vessels and military aircraft make port calls to Hong Kong because they need to restock, which is a commercial and diplomatic act," he said. "It was not a military measure carried out by the defence ministry … but a purely diplomatic response [to Washington's intervention in Hong Kong]."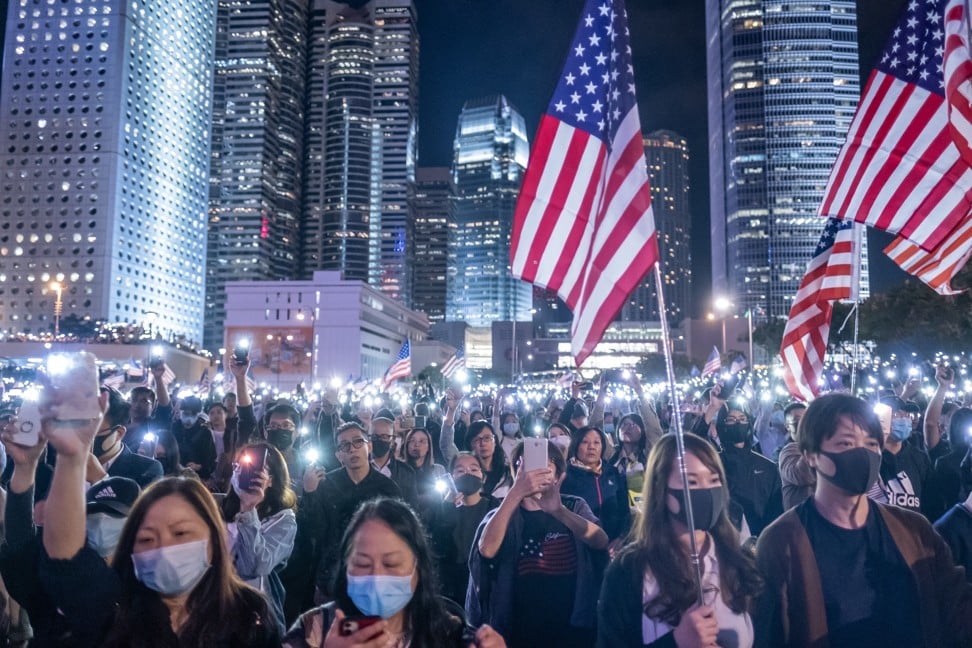 Demonstrators shine lights from their smartphones while waving American flags during the "Thanksgiving Day Assembly for Hong Kong Human Rights and Democracy Act" in Hong Kong on November 28. Photo: Bloomberg
Another Beijing-based military insider agreed that the suspension would not harm military-to-military relations.
"Suspended port calls is the mildest response to the US' intervention on the Hong Kong issue. It won't have any negative impact on China-US military exchanges," he said, adding that the vessels could still stop in other countries in the region including Singapore and the Philippines.
"Beijing is taking the action to vent public anger at home over Trump's signing of the Hong Kong bill."
In the Hong Kong entertainment area of Wan Chai district, bar owners said they expected less business in the coming months because of the suspension.
John Prymmer, co-owner of Hong Kong live music club The Wanch, said business had already been hit by protests in the city, and the loss of port calls by the US military might make things worse.
"We are suffering 50 per cent less turnover due to the early closures whenever protests happen on the island side, and the suspension of railway services," he said.
"We are already cutting costs with fewer bands and negotiating with suppliers to offer discounts in order to make things work. Fewer customers would definitely pose more harm to the already disturbed businesses. We are also worried that tourists are not coming to town."