Scores of Chinese students flee Hong Kong over fears they will be attacked as anti-mainland sentiment sweeps through protesters in city
Exodus of Hong Kong University of Science and Technology students follows violent reaction from protesters to death of undergraduate Chow Tsz-lok
Mainland Chinese businesses have been vandalised and students from across the border are afraid they will be targeted too

10 Nov, 2019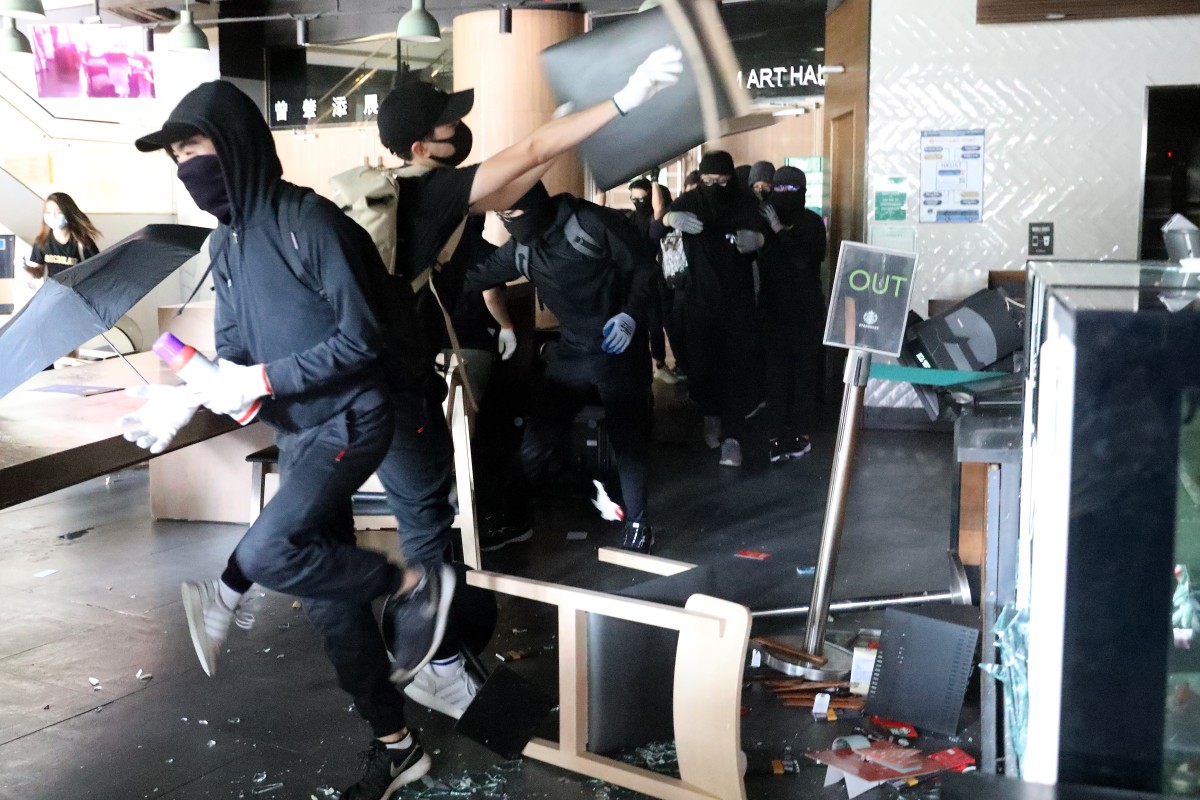 Anti-government protesters vandalise a Starbucks coffee shop at Hong Kong University of Science and Technology. Photo: Dickson LeeScores of mainland Chinese students have fled Hong Kong over fears they will be attacked in retribution for the death of undergraduate Chow Tsz-lok on Friday.
The Hong Kong University of Science and Technology student died four days after falling from a car park in Tseung Kwan O as a police dispersal operation, which included the firing of tear gas, took place nearby.News of Chow's death led to more violence at HKUST, with protesters trashing the residence of university president Wei Shyy and vandalising a Starbucks, a Maxim's canteen and a Bank of China branch on campus.
Xu Jiang, a mainland professor at the university's department of Electronic and Computer Engineering, had his office smashed by violent protesters on Friday.
Already on edge over the anti-mainland sentiment among protesters – and after a mainland student was attacked on campus on Wednesday – dozens of others at HKUST are leaving or have plans to do so, afraid they could be next.
"I don't want to become the next mainland student who runs foul of the local students and gets beaten or is forced to apologise," said Adam, a mainland student who declined to give his real name for fear of being identified. He left for Shenzhen on Friday night.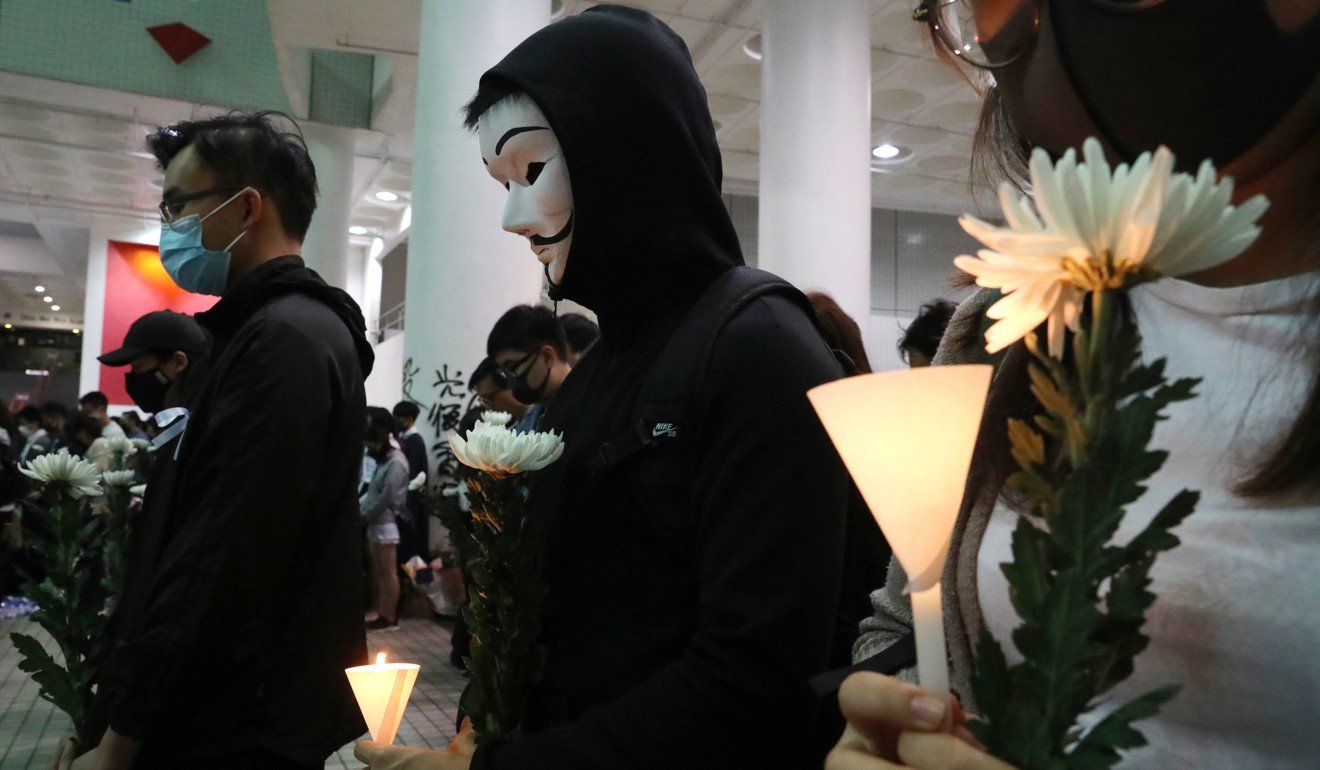 Students in black attend a vigil for Chow Tsz-lok who died from severe head injuries after a car park fall. Photo: Dickson LeeSUBSCRIBE TO Hong Kong NewsGet updates direct to your inboxBy registering, you agree to our T&C and Privacy Policy
That fear was heightened after a student named Zheng was beaten up at a forum on Wednesday. He was accused of shoving a local student to the ground.
But video footage of the incident appears to show a masked man in black obstructing Zheng before suddenly falling to the ground after brushing up against him. The mainland student suffered head injuries in the attack, and left for Shenzhen on Thursday night in fear for his safety.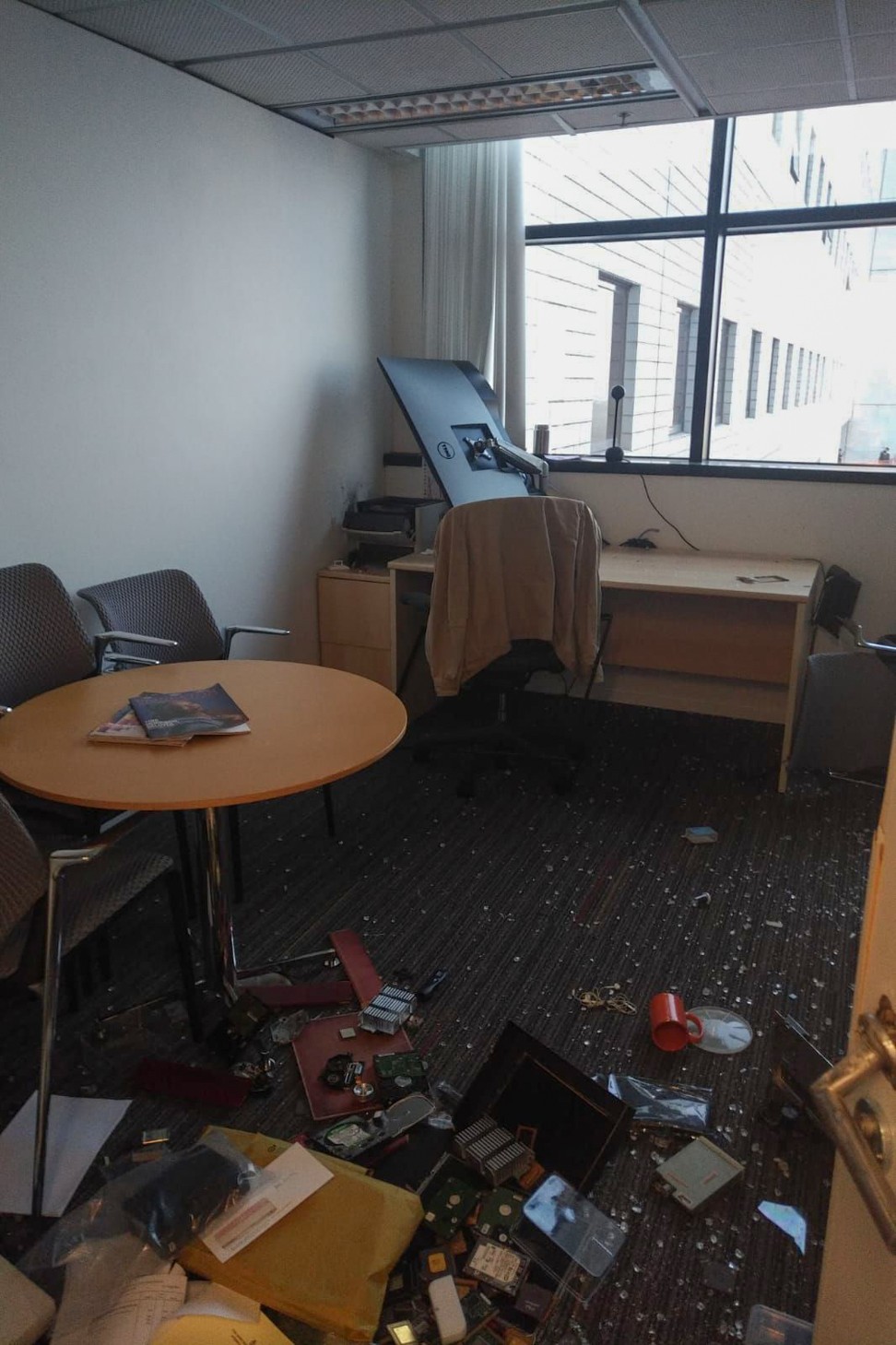 The office of Professor Xu Jiang, a mainlander teaching in the department of Electronic and Computer Engineering, was smashed by violent protesters on Friday. Photo: Xu Jiang
A doctoral student, who gave his family name as Feng, said he was disappointed that Shyy had remained silent over Wednesday's incident, but cried when announcing Chow's death and earlier vowed to condemn police if they had violated guidelines on the use of tear gas in the incident.
"I am really disappointed by our university's double standards as our president never responded to Zheng's unfair treatment but reacted quickly to Chow's death," said Feng, who left Hong Kong for Beijing, via Guangzhou, on Friday evening.
Another doctoral candidate, surnamed Li, said he was angry over the university's inaction and indifference over Zheng's injuries, and worried about his own safety.
I don't want to become the next mainlander who runs foul of the local students and gets beaten or is forced to apologise 'Adam', mainland Chinese student at HKUST
"The violent protesters have already trashed Maxim's canteen and a Bank of China branch. Are they going to beat up mainland students next?" he said.
In an open letter to Shyy sent on Friday, mainland Chinese professors at the university said there had been a failure to protect staff and students.
"During Wednesday's forum, we witnessed a large … mob attack of one of our very own students, right in front of you and right under the spotlight," they wrote.
"We hereby strongly urge the university to come up with effective measures to restore law and order to our campus."
The university issued an emergency broadcast just after lunch on Friday, warning students and faculty members that violence had erupted on campus.
"When Typhoon Mangkhut struck in 2018, the university – which was badly damaged by the storm – did not issue any emergency broadcast," said Adam, adding the announcement had exacerbated his fears.
Some mainland students said they had begun to have second thoughts over staying in Hong Kong, which has entered its sixth month of protests triggered by the now-withdrawn extradition bill.
"When the unrest calms down, I plan to look for exchange programmes to other countries such as Britain," Feng said.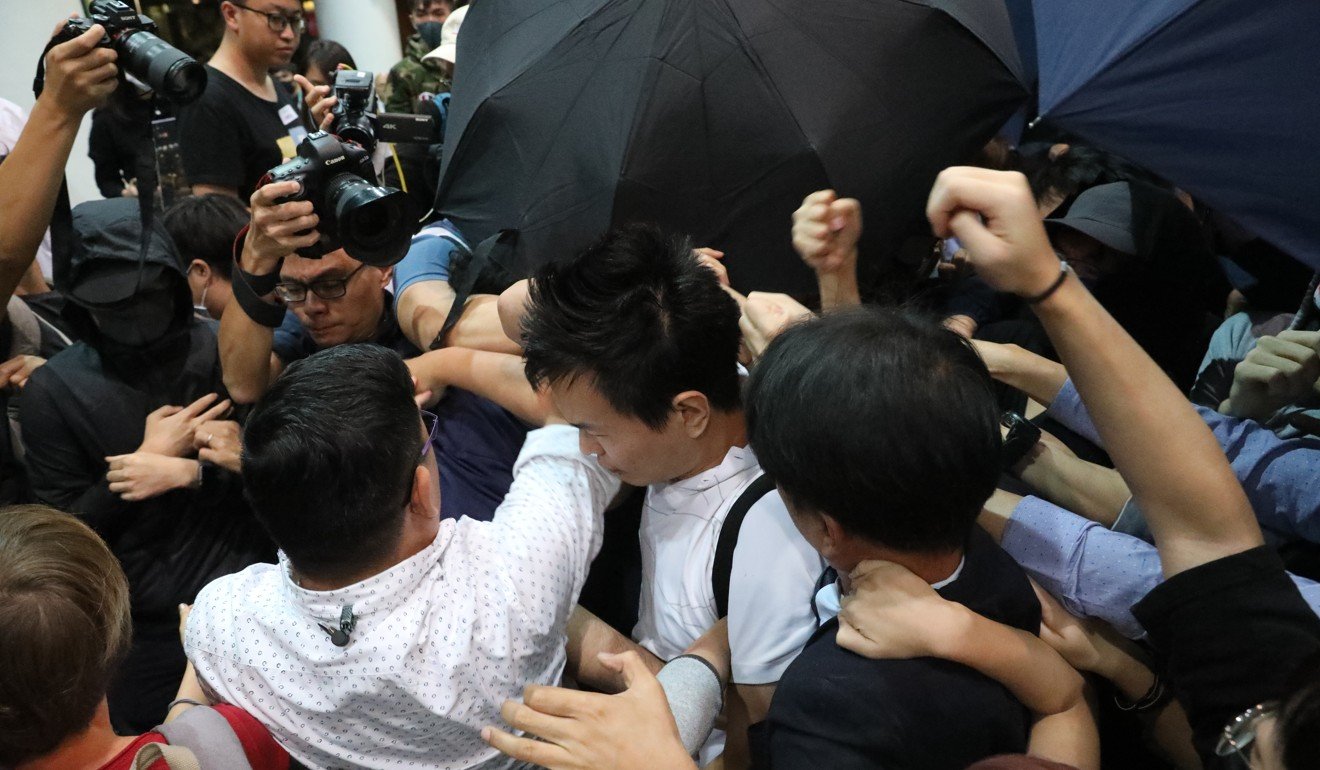 Regular scuffles have broken out at the university. Photo: Dickson Lee
Adam said all he wanted was "to read books and continue my research in a quiet environment", but added that he was not sure the university could protect him if further clashes broke out.
Zhou, a computer science student, said he was concerned about the university's ability to ensure the safety of mainland students.
"Without a guarantee of security offered by campus guards, what if the next clash between mainland and local students escalates into an uncontrollable situation that might become the point of no return?" Zhou said.
He has chosen to stay in Hong Kong since he is confident he can keep himself safe, but said six of his seven closest friends left for Shenzhen on Friday