Tại sao "nước lạ"(Tàu) chọn gây chiến với Việt Nam?-David Hutt(Asia Times)
-08/09/2019
Tác giả: David Hutt
Dịch giả: Hoàng Thủy Ngữ 
(bao TiengDan)
5-9-2019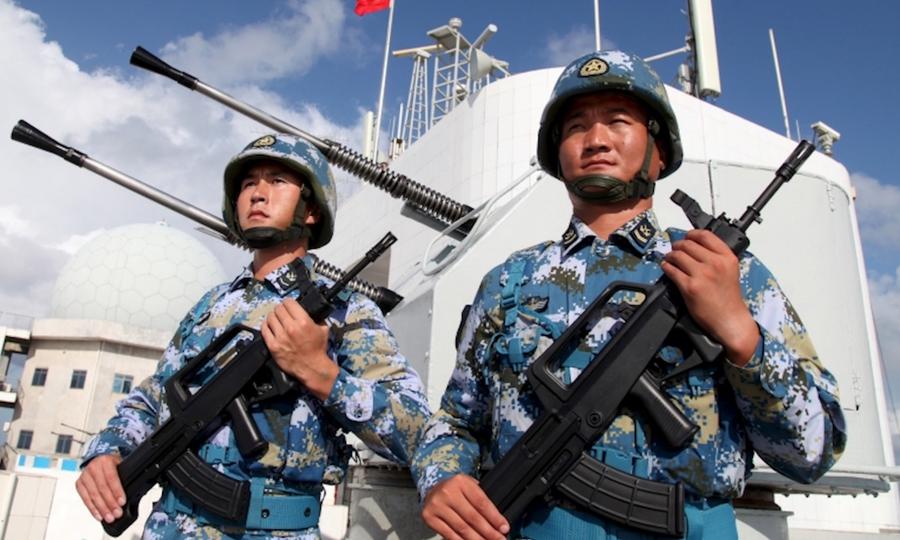 Các nhà phân tích cho rằng, Trung Quốc chọn VN để khơi chiến trước khi đụng độ lớn hơn với Hoa Kỳ ở Biển Đông
Nếu những căng thẳng âm ỉ bùng nổ trở thành cuộc xung đột toàn diện ở Biển Đông, những phát súng đầu tiên bắn ra có vẻ sẽ là giữa Trung Quốc và Việt Nam.
Vì tranh chấp lãnh hải, cả hai đối thủ đã cố thủ suốt nhiều tuần lễ liền ở Bãi Tư chính, một khu vực biển giàu năng lượng, mà không bên nào chịu lùi bước. Trong khi Trung Quốc phản đối mọi hoạt động khai thác các nguồn năng lượng trong vùng biển tranh chấp của đối thủ, cuộc đối đầu của họ hiện nay với Việt Nam nhằm phục vụ chiến lược nước đôi.
Derek Grossman, chiến lược gia quốc phòng cao cấp của tập đoàn RAND, một nhóm chuyên gia tư vấn chính sách có trụ sở tại Washington, đã lập luận rằng nếu Trung Quốc tiến hành cuộc tấn công quân sự ở Biển Đông, rất có thể họ sẽ chọn Việt Nam để giao chiến.
Vào đầu năm nay, trước khi có sự bất đồng tại Bãi Tư Chính, ông đã viết "Việt Nam là đối thủ được Trung Quốc chọn để khởi chiến" vì đó là "quốc gia có sức mạnh trung bình dễ bị đánh bại".
Mặc dù cuộc xung đột vẫn chưa xảy ra, Bắc Kinh một lần nữa lại leo thang gây chiến, áp dụng chính sách "ngoại giao pháo hạm" bằng cách ép buộc Hà Nội phải chấm dứt hoạt động thăm dò dầu khí ở vùng biển tranh chấp.
Vào tháng Bảy, tàu khảo sát Hải Dương 8 của Trung Quốc, cùng với một đội tàu nhỏ có vũ trang, trong nhiều tuần lễ đã di chuyển gần Bãi Tư Chính, một khu vực hàng hải trong vùng đặc quyền kinh tế của Việt Nam.
Giữa tháng 8, dường như sau khi đã quay trở về Trung Quốc, tàu khảo sát lại xuất hiện ở vùng biển Việt Nam, nơi các công ty năng lượng địa phương và Nga đang hợp tác khai thác dầu.
Năm ngoái, một áp lực tương tự từ Trung Quốc đã buộc Hà Nội phải huỷ hợp đồng thăm dò dầu khí trị giá 200 triệu USD đã ký với công ty năng lượng Tây Ban Nha Repsol. Trung Quốc tuyên bố chủ quyền gần 90% Biển Đông thông qua cái gọi là bản đồ đường chín đoạn, một giới tuyến rộng lớn đã bị toà án trọng tài tại The Hague bác bỏ vào tháng Bảy 2016.
Ngày 3 tháng Chín, chương trình việt ngữ đài BBC cho biết, tàu cần cẩu Lam Kình đã được tập đoàn dầu khí Trung Quốc chuyển vào vùng biển Việt Nam, một hành động chắc chắn sẽ làm gia tăng căng thẳng.
Nếu đây là sự thật thì Trung Quốc và Việt Nam đang lặp lại tình trạng bất ổn năm 2014, khi Tập đoàn dầu khí quốc gia Trung Quốc do nhà nước điều hành đưa giàn khoan dầu nửa chìm Hải Dương 981 và các tàu đánh cá dân quân của họ vào vùng biển mà Việt Nam tuyên bố có chủ quyền gần quần đảo Trường Sa.
Trung Quốc bị cáo buộc đã di chuyển tàu cẩu Lam Kinh vào lãnh hải Việt Nam khi Việt Nam và 9 thành viên khác của Hiệp hội các quốc gia Đông Nam Á tham gia khai mạc các cuộc tập trận hải quân với Hoa Kỳ tuần này.
Nó cũng diễn ra chỉ một tháng trước khi chủ tịch nước, kiêm Tổng bí thư đảng Cộng sản Nguyễn Phú Trọng dự kiến sẽ đến Washington trong chuyến viếng thăm cấp nhà nước, theo đó Hoa Kỳ và Việt Nam sẽ nâng cấp các mối quan hệ của họ lên thành đối tác chiến lược.
Năm 1988, quân đội Trung Quốc và Việt Nam đã giao chiến ở bãi đá Gạc Ma quanh Biển Đông, một trận chiến đã cướp đi sinh mạng của 64 người lính Việt Nam. Sự kiện này xảy ra sau cuộc chiến biên giới ngắn ngủi nhưng đẫm máu vào năm 1979, nơi hai bên đều mất hàng ngàn binh lính.
Thời thế đã thay đổi từ khi các cuộc xung đột ngắn ngủi trước đó xảy ra. Quân đội giải phóng nhân dân (QĐGPND) [Trung Quốc] hiện là một trong những lực lượng quân đội lớn nhất và được trang bị tốt nhất thế giới. Năm 2017, chủ tịch Trung Quốc Tập Cận Bình đã kêu gọi QĐGPND "thay đổi toàn diện để trở thành các lực lượng tầm cỡ thế giới" vào năm 2050. Tuy nhiên người ta cho rằng, Bắc Kinh vẫn rất lo lắng trước việc quân đội chuẩn bị cách nào để đối phó với một cuộc xung đột có quy mô lớn.
Tập đã từng nói đến chuyện QĐGPND mắc "bệnh hòa bình" vì họ không ở trong một tình trạng xung đột thực sự trong nhiều thập niên. Với sự chỉnh đốn hàng ngũ quan chức cao cấp kể từ cuộc xung đột thực sự cuối cùng vào năm 1979, hầu hết bọn họ chưa bao giờ tham gia một cuộc chiến.
Hồi tháng Hai, Denis Blasko, một quan sát viên nổi tiếng chuyên về quân đội Trung Quốc, đã tuyên bố rằng tuy đã đầu tư đáng kể vào vũ khí và công nghệ và cải cách cơ cấu lớn, vẫn còn có "sự hoài nghi về khả năng của QĐGPND và sự yếu kém trong hệ thống giáo dục và đào tạo của QĐGPND qua việc chuẩn bị các cấp chỉ huy và sĩ quan tham mưu cho chiến tranh trong tương lai" .
Ông nói thêm: "Vì vậy, lãnh đạo quân đội cấp cao của Trung Quốc tỏ ra rất ít hay không hăng hái điều động QĐGPND ra mặt trận thực sự chống lại một kẻ thù hiện đại nhưng chọn việc đe dọa và thái độ quyết chiến do thường dân, dân quân và quân đội phối hợp thực hiện", để đạt được các mục tiêu quốc gia.
Tính bất ổn này là nhân tố của những nước mà Trung Quốc xem là đối thủ thích hợp. Giao chiến chống lại Ấn Độ ở đồng bằng hay trên dãy Hy Mã Lạp Sơn, QDGPND cũng rút được chút kinh nghiệm tốt để chuẩn bị cho không và hải chiến. Xung đột trên bán đảo Triều Tiên sẽ vô cùng dữ dội và gần nhà.
Gây chiến với Nhật Bản, Philippines và Hàn Quốc có thể sẽ kéo theo sự can thiệp của quân đội Mỹ vì mỗi quốc gia đều có liên minh an ninh với Hoa Kỳ. Đạo luật Quan hệ với Đài Loan (Taiwan Relations Act) cam kết Washington sẽ bảo vệ Đài Loan trong trường hợp quân đội Trung Quốc xâm lược.
Bắc Kinh "thích chọn một cuộc xung đột có thể thắng được" và "Việt Nam về cơ bản không có khả năng hoạt động ngang tầm với Trung Quốc do thiếu thốn về năng lực, đào tạo và nhân lực", Grossman lập luận như vậy.
Một phân tích ít mang tính học thuật hơn đã tìm hiểu lực lượng Quân Đội Nhân dân Việt Nam (QĐNDVN) tự đánh giá về vị trí của họ như thế nào. Hà Nội có khuynh hướng bí mật hơn Bắc Kinh và giới khoa bảng còn kín đáo hơn nữa. Bộ Quốc phòng đã công bố cuốn sách trắng lần chót cách đây một thập niên nhân dịp kỷ niệm 65 năm thành lập QĐNDVN.
Tuy nhiên, các nhà phân tích đều đồng ý là Hà Nội ngày càng chú trọng đến các vấn đề quân sự khi căng thẳng ở Biển Đông gia tăng từng năm.
Hồi tháng Tư, Businesswire báo cáo rằng, chính phủ Việt Nam đã dành 5,1 tỷ USD cho chi phí quốc phòng trong ngân sách năm nay, 1/3 trong số tiền đó sẽ dùng vào việc mua sắm thiết bị quốc phòng. Một số nhà phân tích ước tính chi tiêu quân sự của Hà Nội có thể tăng lên 7,9 tỷ USD vào năm 2024.
Cũng có một số dấu hiệu lo ngại nhất định về sự sẵn sàng ứng chiến của quân đội – cần phải làm nhiều hơn nữa. Hồi tháng Sáu, tạp chí quốc phòng quốc gia do Bộ quốc phòng Việt Nam điều hành, đã đăng một tiểu luận về việc đào tạo quân đội và nguồn nhân lực.
"Việc đào tạo cấp chỉ huy không đồng đều và mất quân bình; nội dung và chương trình đào tạo vẫn còn chậm chạp, không kịp cải tiến; cập nhật kiến thức và công nghệ quân sự mới không cao hơn", bài tiểu luận cảnh báo như vậy.
Rõ ràng là Việt Nam có quân đội yếu hơn nhiều so với Trung Quốc.
Việt Nam chi khoảng 5 tỷ USD cho quân đội của mình; Trung Quốc chi 220 tỷ USD. Trung Quốc có số lượng nhân viên tích cực nhiều gấp 5 lần Việt Nam; số lượng máy bay gấp 10 lần (TQ: 3187 / VN: 318); và số tàu hải quân gần gấp 11 lần TQ: 714 / VN: 65). Trung Quốc cũng có thiết bị tốt hơn nhiều. Lực lượng hải quân của QĐGPND có tàu sân bay và khu trục hạm, những thứ Việt Nam còn thiếu.
Hầu hết các nhà phê bình cho rằng, với sự bất cân xứng này, chọn lựa chiến lược duy nhất của Việt Nam là phòng thủ nếu xảy ra xung đột. Tuy vậy, ở Hà Nội vẫn không có sự đồng thuận về điều này.
Trong một bài viết cho tạp chí quốc phòng quốc gia xuất bản vào ngày 30 tháng Tám, bộ trưởng thông tin Nguyễn Mạnh Hùng – cũng là một thiếu tướng trong QĐNDVN và là cựu chủ tịch Viettel, một tập đoàn thuộc quyền sở hữu của quân đội – đã viết rằng, "trong tương lai, nếu chiến tranh xảy đến với đất nước chúng ta, đó sẽ là một cuộc chiến của nhân dân để bảo vệ một đất nước phát triển chống lại sự xâm lược của kẻ thù".
Tuy nhiên, ông lưu ý rằng "trong những cuộc chiến chống lại tổ tiên chúng ta trước kia và Đảng của chúng ta sau này, đất nước chúng ta thường phải đối mặt với những kẻ thù có sức mạnh quân sự vượt trội, nhưng chúng ta đã coi sự tấn công như tư tưởng thống trị thay vì thụ động hay phòng thủ thụ động".
"Suy nghĩ tấn công", ông nói tiếp, tạo ra sự đoàn kết trong nhân dân và niềm tin là họ không đầu hàng dù kẻ thù mạnh đến mức độ nào. Tuy nhiên, ông cũng sử dụng cụm từ "phòng ngự tích cực" giống như khái niệm phòng thủ tích cực của Trung Quốc, một thuật ngữ được nhà lãnh đạo Đặng Tiểu Bình sử dụng trong thập niên 1980, với ý nghĩa phòng thủ chiến lược nhưng hoạt động tấn công.
Điều này cho thấy, các quan chức cao cấp của đảng Cộng sản Việt Nam đang nghiêm túc cân nhắc khả năng chiến tranh và sẽ tiến hành nó như thế nào. Hẳn không phải ngẫu nhiên mà đảng Cộng sản đã dành khoảng thời gian trống nhiều hơn cho báo chí viết về năm kỷ niệm cuộc chiến tranh biên giới Việt – Trung.
Các báo cáo từ đầu năm cho thấy, Việt Nam đã âm thầm mở rộng lực lượng dân quân biển và trang bị thêm cho lực lượng bảo vệ bờ biển để chuẩn bị chiến thuật công kích, thậm chí còn mạnh bạo hơn cả Trung Quốc.
Do thua kém về quân sự, khả năng răn đe lớn nhất của Việt Nam rất có thể sẽ thông qua quan hệ với các đối tác quốc tế. Hà Nội đã bận rộn kết bạn mới. Chẳng hạn như tháng trước Việt Nam đã đồng ý mở rộng quan hệ quốc phòng với Nam Phi, trong khi thủ tướng Úc Scott Morrison tái khẳng định sự hợp tác quân sự của họ trong chuyến thăm dự kiến sẽ đến Hà Nội.
Trong năm nay, Việt Nam cũng đã ký các thỏa thuận quốc phòng mới với Liên minh Âu châu và Nhật Bản. Tuy nhiên, điều quan trọng nhất vẫn là, liệu Hà Nội có thể giành được nhiều bảo đảm chiến lược hơn từ Hoa Kỳ, kẻ thù trước kia trên chiến trường.
Do đó, đa phần tùy thuộc vào chuyến thăm Washington sắp tới của Trọng. Cho đến khi phần lớn còn dễ dàng – quan hệ giữa Hoa Kỳ và Việt Nam tốt hơn nhiều so với những gì người ta nghĩ – nó sẽ gửi một tín hiệu mạnh mẽ hơn, cho biết Washington ủng hộ Việt Nam và đóng vai trò răn đe lâu dài đối với Trung Quốc, nếu hai bên đồng ý nâng cấp quan hệ chiến lược.
Gần như chắc chắn, nó sẽ dừng lại ở một hiệp ước quốc phòng vì các quy tắc trong nội bộ đảng Cộng sản Việt Nam – cái gọi là chính sách "ba không" – đã cấm họ ký hiệp ước quân sự với các quốc gia khác. Tuy vậy, một quan hệ đối tác vô điều kiện có thể cho phép các tàu hải quân Mỹ ghé thăm Việt Nam nhiều hơn – điều mà Washington muốn – và có lẽ Hà Nội sẽ cam kết mua thêm thiết bị quân sự của Hoa Kỳ.
Việt Nam hiện mua 4/5 thiết bị quân sự của mình từ Nga và 1/10 từ Israel. Để đền bù cho việc Việt Nam mua sắm quốc phòng nhiều hơn, Washington có thể cho quốc gia này biết rõ là họ có bị trừng phạt hay không, chiếu theo đạo luật dông dài tên là Countering America's Adversaries Through Sanctions Act (CAATSA: Đạo luật chống những kẻ thù của Mỹ thông qua chế tài) mà Hoa Kỳ áp dụng để trừng phạt các quốc gia mua vũ khí của Nga.
Việt Nam tạm thời được miễn trừ CAATSA, như mong muốn của cựu bộ trưởng quốc phòng James Mattis. Nhưng để được miễn trừ lâu hơn, Hà Nội phải chứng tỏ họ đang giảm phụ thuộc vào Nga trong việc nhập khẩu quân sự.
Bằng cách mua thêm thiết bị quân sự của Mỹ, Việt Nam sẽ giảm thặng dư thương mại đáng kể với Mỹ, điều vốn vẫn làm chính quyền Trump khó chịu.
Washington chắc chắn cương quyết chống lại các hành động mới nhất của Bắc Kinh ở Biển Đông, điều mà Bộ Ngoại giao Mỹ mô tả là "sự can thiệp cưỡng bức đối với các hoạt động dầu khí lâu đời của Việt Nam". Tháng trước, bộ ngoại giao cũng lưu ý rằng Trung Quốc đang cố gắng ngăn chặn sự tiếp cận với "nguồn tài nguyên hydrocarbon chưa được khai thác, trị giá khoảng 2,5 tỷ USD" ở Biển Đông.
Đồng thời, trong một báo cáo vào năm ngoái, Bộ Quốc phòng Mỹ nhấn mạnh rằng, Trung Quốc là nước tiêu thụ dầu thô đứng hàng thứ hai trên thế giới và là nước tiêu thụ khí đốt tự nhiên đứng hàng thứ ba. Hơn nữa, do phụ thuộc vào khí đốt nhập khẩu, chiếm 67% nhu cầu trong năm 2017, có thể tăng lên 80% vào năm 2035, tầm quan trọng của các nguồn tài nguyên chưa được khai thác ở Biển Đông được nâng lên.
Hoa Kỳ cần phải chứng tỏ là họ nghiêm túc bảo đảm an ninh cho Việt Nam đối với Trung Quốc. Hà Nội chắc chắn không quên việc tổng thống Mỹ Barak Obama từ chối bảo vệ một đồng minh khi Trung Quốc chiếm giữ Bãi Cạn của Philippines năm 2012. Obama cũng không hề ủng hộ Việt Nam chống lại vụ tàu Hải Dương 918 năm 2014.
Trump đa phần cũng tiếp tục đi cùng hướng, đưa ra những tuyên bố nghiêm khắc nhưng không ủng hộ bằng hành động khi Trung Quốc thành công buộc Việt Nam phải hủy bỏ các thỏa thuận thăm dò dầu khí vào năm ngoái và tại các khu vực đang tranh chấp ở Biển Đông năm 2017.
Các cuộc diễn tập nhằm tạo áp lực của Trung Quốc gần Bãi Tư Chính và việc di chuyển tàu cẩu vào vùng biển Việt Nam đang bị lên án, trở thành nguy hiểm hơn khi các tàu lớn của nước này gia tăng lui tới các cơ sở nhân tạo của hải quân và không quân mà họ mới phát triển trên biển.
Điều này có nghĩa là, các tàu không còn cần phải quay về lục địa Trung Quốc để tiếp thêm nhiên liệu và bảo trì trong cuộc hành trình vào Biển Đông. Đó cũng có nghĩa là, họ có thể tuần tra gần bờ biển Việt Nam hơn và trong thời gian lâu hơn.
Tàu Hải Dương 8 của Trung Quốc hiện đang đối đầu với các tàu của Việt Nam tại bãi Tư Chính, theo báo cáo, đã đến một căn cứ hải quân mới được thành lập trên Bãi Chữ Thập để tiếp nhận nguyên liệu trước khi trở lại tiếp tục tranh chấp.
Nếu cuộc đối đầu với Việt Nam leo thang thành cuộc xung đột vũ trang, nó có thể cung cấp cho Trung Quốc một trường hợp thử nghiệm để tiến hành một cuộc chiến lớn hơn có thể xảy ra ở vùng biển tranh chấp trong những năm sắp tới.  
ASIA TIMES
Why China is picking a fight with Vietnam
Analysts see Vietnam as China's preferred 'warm-up fight' before a bigger battle with the US in the South China Sea
If simmering tensions erupt into full-blown conflict in the South China Sea, increasingly it seems the first shots to be fired would be between China and Vietnam.
The two rival sea claimants have been locked in a weeks-long standoff over the energy-rich Vanguard Bank, with neither side apparently ready to back down. While China opposes any rival claimants' move to develop energy resources in contested sea areas, the current confrontation with Vietnam may serve a dual strategic purpose.
Derek Grossman, a senior defense analyst at the RAND corporation, a Washington-based think tank, has argued that if China was to launch a military offensive in the South China Sea, its most likely choice of combatant would be Vietnam.
Vietnam is Beijing's "preferred warm-up fight," he wrote earlier this year before the Vanguard Bank standoff, reasoning it is "a middle-sized power that should be easily defeatable" by the Chinese military.
Although conflict is still unlikely, Beijing is again ramping up its aggression and "gunboat diplomacy" by pressuring Hanoi to end its exploration for oil and gas in the contested waters.
In July, a Chinese survey ship, Haiyang Dizhi 8, along with an armed flotilla, spent weeks sailing near the Vanguard Bank, a maritime area well within Vietnam's exclusive economic zone (EEZ).
In mid-August, after it seemed the survey ship had returned to China, it reappeared in Vietnamese waters where local and Russian energy firms are jointly exploring for oil.
Last year, similar pressure from China forced Hanoi to cancel a US$200 million oil exploration contract it had entered with Spanish energy firm Repsol. China claims almost 90% of the South China Sea through its so-called nine-dash line map, a wide-reaching demarcation which was rejected by an arbitral tribunal at The Hague in July 2016.
The BBC's Vietnamese service reported on September 3 that the deep-water crane Lam Kihn was moved by state-owned China Oil and Gas Group into Vietnamese waters, a move that will inevitably heighten tensions.
If true, China and Vietnam could be in for a repeat of their volatile 2014 standoff, when the state-run China National Offshore Oil Corporation moved its semi-submersible Hai Yang Shi You 981 oil rig and fishing militia into waters claimed by Vietnam near the Spratly Islands.
China's alleged move of the Lam Kihn crane into Vietnamese waters comes as Vietnam and the nine other members of the Association of Southeast Asian Nations (ASEAN) take part this week in inaugural maritime naval exercises with the United States.
It also comes just a month before Vietnamese President and Communist Party chief, Nguyen Phu Trong, is expected to make a high-profile state visit to Washington, at which the US and Vietnam could upgrade their relations to a "strategic partnership."
Chinese and Vietnamese forces last came to blows in 1988 during a skirmish around the South China Sea's Johnson South Reef, a clash that killed 64 Vietnamese soldiers. That followed on a brief but bloody border war in 1979 where both sides lost thousands of soldiers.
Times have changed since those previous short-lived conflicts. The People's Liberation Army (PLA) is now one of the world's largest and most well-equipped militaries. In 2017, Chinese President Xi Jinping called for the PLA "to be fully transformed into world-class forces" by 2050. Yet there is believed to be deep insecurity in Beijing about how prepared the military is to fight a large-scale conflict.
Xi has spoken about the PLA suffering from "peace disease" because they haven't been in an actual conflict situation for decades. Given the turnaround of senior officials since the last real conflict in 1979, most have never been in a war.
Dennis Blasko, a noted observer of the Chinese military, argued in February that despite the considerable investment in weaponry and technology, and massive structural reforms, there remains "a lack of confidence in PLA capabilities and a failure of the PLA's educational and training systems to prepare commanders and staff officers for future war."
"Therefore," he added, "the senior Chinese military leadership demonstrates little or no enthusiasm to commit the PLA to actual combat against a modern foe, preferring to achieve China's national objectives through deterrence and actions short of war conducted by a combination of civilian, government, paramilitary, and military forces."
This insecurity will factor into who China sees as a viable opponent. Fighting India on land and high in the Himalayas "does the PLA little good" to prepare for air and naval warfare, Grossman wrote. Conflict in the Korean peninsula would likely be far too violent and close to home.
Fighting against Japan, the Philippines or South Korea would probably involve the American military, as each have security alliances with the US. The Taiwan Relations Act commits Washington to coming to Taiwan's defense in the event of Chinese military aggression.
Beijing would "prefer a conflict that is winnable" and "Vietnam is fundamentally incapable of sustaining operations on par with China due to shortfalls in capabilities, training, and manpower," Grossman has argued.
Less academic analysis has gone into how the Vietnam People's Army's (VPA) sees its own position. Hanoi tends to be more secretive than Beijing while its academic circles are even more hermetic. The Ministry of National Defence published its last defense "white paper" a decade ago, to mark the 65th anniversary of the VPA's foundation.
Analysts agree, however, that Hanoi is taking military matters increasingly seriously as tensions in the South China Sea escalate year by year.
Businesswire reported in April that Vietnam's government earmarked US$5.1 billion for military expenditure in this year's budget, about a third of which will go towards defense equipment procurements. Some analysts estimate that Hanoi's military spending could rise to $7.9 billion by 2024.
There are also certain signs of concern about the military's readiness – and the need to do more. In June, the National Defense Journal, run by Vietnam's Defense Ministry, published an essay on the military's training and human resources.
"The training of cadres in the military is not even and balanced; content and training programs are still slow to innovate; the update of new military knowledge and technology in training is not higher," it warned.
Clearly, Vietnam has a much weaker military than China's.
Vietnam spends about $5 billion a year on its military; China spends $220 billion. China has five times the number of active personnel as Vietnam, and has ten times the number of aircraft (3,187 to 318) and almost 11 times as many naval vessels (714 to 65). China also has much better equipment; the People's Liberation Army Navy has aircraft carriers and destroyers, assets Vietnam lacks.
Most analysts reckon that, given this asymmetry, Vietnam's only strategic choice would be defensive in the event of a conflict. Still, there doesn't appear to be a consensus on this in Hanoi.
In an article for the National Defense Journal published on August 30, Information Minister Nguyen Manh Hung – who is also a major-general in the VPA and a former chairman of Viettel, a military-owned conglomerate – wrote that "in the future, if war happens to our country, it will be a people's war to protect a developed country against the enemy's aggression."
However, he noted that "in the wars against our ancestors before, and our Party later, our nation often faced enemies with outstanding military power and strength, but we took the offensiveness as the dominant ideology, instead of passiveness or passive defense," he wrote.
"Offensive thoughts," he added, creates unity amongst the people, and a belief that they won't surrender regardless of how strong the enemy is. He, however, also used the phrase "phòng ngự tích cực", which is similar to the Chinese concept of an "active defense" or "positive defense" – a term used in the 1980s by then-leader Deng Xiaoping to mean strategically defensive but operationally offensive.
This would certainly suggest that senior Vietnamese Communist Party officials are seriously weighing the possibility of war, and how it might be waged. It is thus probably not a coincidence that the Communist Party has given newspapers more leeway to write about this year's anniversary of Vietnam-China border wars.
Reports from earlier this year suggest that Vietnam has been quietly expanding its maritime militia and arming more of its coast guard in preparation of even more aggressive tactics by China's equivalents.
Given the military mismatch, Vietnam's greatest deterrence would likely come through international partnerships. And Hanoi has been busy making new friends. For instance, Vietnam agreed last month to expand defense ties with South Africa, while Australian Prime Minister Scott Morrison reaffirmed their military cooperation during an anticipated visit to Hanoi.
Vietnam has also signed new defense agreements with the European Union and Japan this year. Most important, however, would be if Hanoi could win more strategic assurances from its former battlefield foe the US.
Much thus hangs on Trong's upcoming visit to Washington. While mostly facile – US relations with Vietnam are far better than the semantics would belie – it would send a stronger signal that America is backing Vietnam, and serve as a long-term deterrent to China, if the two sides agreed to upgrade their strategic relations.
It will almost certainly stop short of a defense pact, since the Vietnamese Communist Party's internal rules – the so-called "Three No's" – forbid it from signing military pacts with other nations. However, an ungraded partnership could allow for more US naval vessel visits to Vietnam – something that Washington wants – and perhaps a commitment from Hanoi to purchase more military hardware from the US.
Vietnam currently buys about four-fifths of its military equipment from Russia and a tenth from Israel. In return for more purchases, Washington may offer clarity over whether Vietnam will be sanctioned over the prolix Countering America's Adversaries Through Sanctions Act (CAATSA), which can sanction nations that purchase weapons from Russia.
Vietnam has been temporarily exempted from CAATSA, and former secretary of defense James Mattis had sought a waiver for Vietnam. But to make the exemption more permanent Hanoi must show that it is reducing its dependency on Russian military imports.
Also by purchasing more American military hardware, Vietnam would reduce its considerable trade surplus with the US, something known to irk the Donald Trump administration.
Washington has certainly been firm against Beijing's latest actions in the South China Sea, which the State Department described as "coercive interference in Vietnam's longstanding oil and gas activities." The State Department also noted last month that China is trying to block access "to an estimated $2.5 trillion in unexploited hydrocarbon resources" in the South China Sea's waters.
The US Defense Department, meanwhile, highlighted in a report last year that China is the world's second largest consumer of crude oil and the third largest country consumer of natural gas. Moreover, its reliance on imported gas, which accounted for 67% of its needs in 2017, could grow to 80% by 2035, therefore raising the importance of untapped resources in the South China Sea.
The US will need to show that it is serious about ensuring Vietnam's security vis-a-vis China. Hanoi no doubt remembers that then US president Barack Obama declined to defend a treaty ally when China seized the Scarborough Shoal from the Philippines in 2012. Neither did Obama provide any support to Vietnam during the 2014 Hai Yang Shi You 981 standoff.
Trump has continued largely in the same vein, making stern statements but not backed by action when China successfully forced Vietnam to cancel oil exploration deals last year and in 2017 in contested South China Sea areas.
China's pressing maneuvers near the Vanguard Bank, and its alleged moving of a crane into Vietnamese waters, are arguably now more dangerous as its vessels now have access to new naval and air facilities on artificial features it has developed in the sea.
This means that vessels no longer need to return to mainland China for refueling and maintenance during journeys into the South China Sea. It also means they can patrol much closer to the Vietnamese coastline and for longer periods of time.
China's Haiyang Dizhi 8 now faced off with Vietnamese vessels at Vanguard Bank reportedly went to a new naval base established on the nearby Fiery Cross Reef, not the Chinese mainland, to refuel before returning to the contested feature.
If the standoff with Vietnam escalates into an armed confrontation, it could provide China a test case of its readiness for a possible bigger fight in the contested sea in the years to come.
Communist Party Secretary General and State President Nguyen Phu Trong applauds after delivering a speech at the closing ceremony on the final day of the 12th National Congress of Vietnam's Communist Party in Hanoi on January 28, 2016. Photo: AFP/Hoang Dinh Nam
Vietnam edges towards a succession crisis
Ruling Communist Party is splitting on pro- and anti-China lines ahead of a pivotal 2021 Congress that will determine new leaders and directions
As Vietnam begins preparations for the Communist Party's 13th National Congress in early 2021, a quinquennial event at which the nation's next leaders will be decided, cadres' and cliques' positions on China could determine who wins and who loses.
At a Central Committee plenum in May, the Party began selecting "strategic cadres" – the next generation of apparatchiks deemed "moral" and untainted by corruption by current leaders – who can be selected as members of the powerful committee in 2021.
Carl Thayer, a Vietnam expert and emeritus professor at the University of New South Wales in Australia, says that as the leadership selection process intensifies over the next sixteen months, "it is likely that the focus will turn on how the next [Party] Secretary General will handle relations with China."
Fraught bilateral relations have come into stark relief in recent weeks as China has ramped up pressure on Vietnam to stop exploring for oil near the Vanguard Bank, a contested feature in the South China Sea.
It is usually taken for granted that such disputes won't upset broad fraternal ties between two of the world's last few ruling communist parties, which have remained on friendly terms even when they appear on the verge of violence.
Hanoi is frequently keen to stoke nationalist feelings, but not so much that it affects diplomatic and trade relations with China, or unintentionally fosters too much of a sense of people power among the repressed Vietnamese public.
But anti-China nationalism among the Vietnamese public, often sparked by sea disputes, could play a bigger role in Party affairs, especially if the current dominant clique centered around Party Secretary General Nguyen Phu Trong struggle to win the support for their China position among rising new generation Party cadres.
The Party's legitimacy rests largely in a fast-accelerating economy – one of the fastest growing in Asia – and safeguarding that status-quo. But one way in which the Party could bolster its standing among the public, however, would be to take a harder line vis-a-vis China.
In a Pew Research Center survey conducted in 2017, some 64% of Vietnamese respondents saw a growing Chinese economy as bad, while 92% said Chinese power and influence was a threat to their country.
Yet anti-China nationalism – as opposed to the party's state-enforced strain of ideological nationalism – tends to also overlap with pro-democracy sentiment the Party ruthlessly suppresses.
For the last three years, Vietnam's politics seemed strong and stable. Back in 2016, Trong secured a majority of votes – and a pass on
his age, then 72, which should have seen him retire – to remain in the post for another five years.
Trong, who rose through the ranks as an editor of a communist periodical and respected theoretician, represented the party's traditional consensus-based, decision-making ethos and its abhorrence of individualistic leaders. He has also been at the forefront of maintaining ideological ties to China.
At that year's National Congress, he routed then-prime minister Nguyen Tan Dung, a populist politician who was at the time mounting a campaign to become the next party chief.
Where Trong represented an old-fashioned belief in the Party's role over society, Dung was the embodiment of a new Party cadre who saw personal advancement and financial gain as the new norm within the party.
Dung wanted the new capitalist classes to have more influence within the ruling party; Trong wanted the ruling party to have more control over the fast-rising capitalist classes.
Trong won and quickly launched a far-reaching campaign against corruption and immorality within the Party, one that appeared to ape Chinese President Xi Jinping's power-consolidating purge of his Communist Party.
But Trong has so far studiously steered clear of reorienting foreign policy, continuing instead the Party's traditional approach of building "as many friends as possible", even as Beijing ramps up its aggression in the South China Sea.
If the 2016 National Congress was basically a contest between the old and new, the upcoming event in early 2021 will be more complex, with competing notions of how to handle China a potential dividing and deciding factor.
Currently, there is no standout candidate to replace Trong, who will be 76 years old in early 2021. Having served two terms, Trong will almost certainly step down as Party chief, though he could remain as state president, a position he took on last year when the incumbent died in office.
Even this, though, will require informal rules that have governed Party decisions for decades to be fudged or reformed. One analyst who requested anonymity reckons there could be a "succession crisis" leading to instability in the Party, significantly at a time when the country needs deft and strong leadership to manage rising regional tensions, including with China.
Tran Quoc Vuong seems Trong's natural heir, serving as his anti-corruption czar as head of the Central Inspection Committee since 2016.
When the once-powerful Dinh The Huynh, another Trong ally, was forced to retire from some his posts last year due to ill-health, Vuong took on even more authority as executive secretary of the Party's Secretariat, which is charged with implementing Politburo and Central Committee policies.
But Vuong has no real experience in a senior government position – he is a committee man of a yesteryear – and by 2021 will be 65 years old, so would be expected to retire unless usual age restrictions are relaxed.
Another Trong loyalist who is thought be in the running for top job is Pham Minh Chinh, a ex-vice police minister who in 2016 became head of the powerful Central Organization Commission, which sits just below the Politburo but is responsible for nominating and approving the appointment of Party officials. That means he is the gatekeeper of political offices.
But, as Nguyen Khac Giang, a senior research fellow at the Vietnam Institute for Economic and Policy Research, has pointed out: "there has never been a secretary general who previously worked as the head of the Central Organization Commission. There is a clear logic for that, as such a person will be seen as too powerful when holding the top post and securing all the senior personnel files."
Prime Minister Nguyen Xuan Phuc could make the transition from civilian government head to party chief, just as his former boss wanted to do in 2016. But he will by then be 66, and, more inhibitory, he hails from the country's south, which would make him the first ever southern party chief, an unlikely development.
There is now a debate within the Party about loosening the mandatory retirement age of 65, says Thayer. If accepted, it would allow the party's geriatric politicians to maintain power, and would certainly improve the odds of Vuong being named the Party's next chief.
This handwringing and wrestling over Party decorum and tradition will take place at a crucial period for the nation's foreign policy.
Recent Chinese aggression near Vanguard Bank has shown that Hanoi's traditional policy of appeasing Beijing isn't working. Vietnam stopped oil exploration in 2017 and 2018 in contested sea areas in response to Chinese threats, yet the pressure has continued. Hanoi's more robust response this time around likely indicates a realization that yielding to past pressure has only emboldened China.
Whether Trong will maintain the Party's traditionalist foreign policy of balancing relations between China and the West, allowing the country to maximize benefits from both, or take a new path, will be seen in the coming months.
Trong has already upended many of the Party's traditions while in power, meaning he could yet flip the script on policy towards China. Hanoi's relationship with Beijing "will come to a head" in October when Trong is expected to meet US President Donald Trump in Washington, said Thayer.
"One important issue is whether to raise bilateral relations from a comprehensive to a strategic partnership. This is obviously inter-connected with Vietnam's relations with China."
If Trong does upgrade relations with the US, it will represent one of Vietnam's biggest foreign policy shifts in decades, and would mollify a growing number of Party members who are demanding stiffer action against China.
But if Trong does not make such a bold move, and if he attempts to again appease China through traditional means while Beijing ramps up pressure in the South China Sea, it could prompt a backlash from within the Party.
Indeed, a new generation of Central Committee members could try to take more responsibility in choosing the next set of Party leaders in 2021, and thereby reduce the Politburo's power.
A groundswell of opposition to Trong's foreign policy stance might not be enough to dislodge his entire clique, but senior Politburo members would no doubt have to heed rising anti-China sentiment, both inside the Party and at the grass roots.
"If there is a push for a younger leader it will likely come from within the Central Committee," said Thayer.
Maintaining the status quo in foreign affairs could also be problematic if other senior Politburo members are perceived as tainted by their soft stances on China.
Phuc could well stay on as prime minister for another five years after 2021 and, though seen as a competent pair of hands, his civilian government made an enormous error in early 2018 when it floated a proposal to allow foreign companies to lease land in special economic zones (SEZs) for up to 99 years.
When the Vietnamese public came to perceive this meant selling out parts of the country to China, it sparked some of the largest nationwide protests in years.
"There is no doubt nationalism will play a part in the succession politics in Vietnam, but we are not sure of its degree and to which sections it will affect," Giang, the analyst, told Asia Times.