Vietnamese illegal immigrants: Eight teenagers still missing
BBC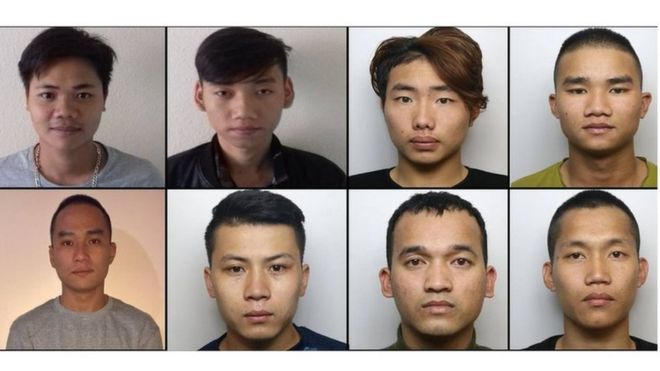 Eight out of the 13 Vietnamese teenagers who disappeared from a county council's care more than a year ago are still at large, police have confirmed.
The group absconded after they were discovered in the back of a lorry in Corby, Northamptonshire, in June 2017, having entered the UK illegally.
A year after police issued an appeal, only five of the young people, aged between 15 and 18, have been located.
Northamptonshire County Council said it was "very concerned" for their welfare.
A spokesman for the authority said: "There are particular concerns about these young people due to the circumstances of their arrival, given the fact that we had very little time to assess their needs when they came into our care before they went missing."
The three girls and 10 males were looked after by Northamptonshire social services after they were found in the lorry on a Corby industrial estate on 17 June, 2017.
They then disappeared "one after the other" from accommodation in Northampton and Corby where they had been safeguarded, police added.
Eight boys remain at large after leaving properties separately in June, July and September 2017.
Police have not commented on whether the youngsters were trafficked or entered the UK of their own free will.
The teenagers, who are all missing from addresses in Northampton, are:
Quang Dang Le, 16, 5ft 5in (1.65m)
Ha Van Le, 18, 5ft 7in (1.70m)
Ha Van Nguyen, 17, 5ft 6in (1.66m)
Trong Nguyen, 17, 5ft 4in (1.62m)
Binh Van Hoang, 18
Khoa Anh Yu, 15
Lihn Van Nguyen, 16
Quang Trong Nguyen, 17, 5ft 1in (1.55m)
EU's biggest crackdown on Vietnamese illegal migrants
By Nick Thorpe
BBC News, Budapest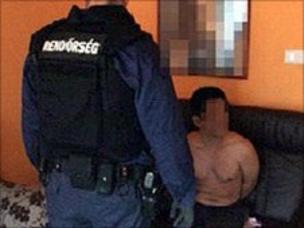 A nearly naked young Vietnamese woman crushed into the engine of a Renault Espace.
Vietnamese men almost suffocated in plastic bags in the back of trucks, so that equipment designed to detect their breath as they leave France fails to find them.
Young men working in illegal cannabis factories in Hungary or Britain, for a bowl of rice a day, trying to pay off $20,000 (£13,300) bills to traffickers who organised their route to Europe – these were the images presented by European police in Hungary on Friday.
On Tuesday, 31 alleged traffickers and 66 migrants were arrested in Hungary, France, Germany and the UK – in the fourth and biggest crackdown so far by European police forces on the illegal immigration of Vietnamese into the European Union.
With Hungary, Slovakia and the Czech Republic now all part of the Schengen group of countries, which have no border controls between them, migrants can reach the English Channel before being asked to show documents.
Some enter Schengen countries legally, on short-stay visas. Others cross illegally into Eastern Europe overland from Russia and Ukraine.
Cannabis plantations
Historically close ties between Eastern Europe and south-east Asian countries have created better conditions for the smugglers, according to Andy Baker, deputy head of the Serious Organised Crime Agency (Soca) in Britain, who visited Hungary this week.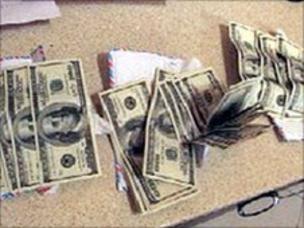 "They may have a better footprint for safe houses and people who can look after them – hence the number of facilitators who were arrested in Hungary who are of Vietnamese and Hungarian background. This isn't just about Vietnamese organised crime," Mr Baker told the BBC.
Police sources say most of the Vietnamese come from Haiphong, or from an area north of Hanoi.
There are 30,000 Vietnamese living legally in Britain, but police estimates put the illegal numbers at another 35,000.
There are 4,000-5,000 Vietnamese living in Hungary, according to Zoltan Baross of the National Bureau of Investigation (NNI). Many arrive in groups, with letters of invitation from non-existent companies. Of 900 Vietnamese who arrived recently in Hungary, 600 subsequently disappeared.
Police in both countries say that illegal migration is closely tied to cannabis production.
"We uncovered 40 cannabis plantations in Budapest in the last year – and in almost all of them we found Vietnamese working," said Mr Boross.
In Britain, just over 3,000 cannabis plantations were found by police in the same period, again with a strong Vietnamese connection, Mr Baker said.
Using special lighting to produce three crops a year, each could generate profits of 1m euros (£820,870) a year, police estimate. 
Vietnamese immigrants face deportation from Germany
Tricked by smugglers, hundreds of Vietnamese give up everything to come to Germany, only to be denied asylum. Now, many illegal immigrants are being sent back home.
Many illegal Vietnamese immigrants in Germany are involved in cigarette smuggling
For the first time, the European Union agency for external border security, Frontex, is financing a group deportation of about 100 Vietnamese from Germany and Poland on Monday. The group is to be flown out on an Air Berlin flight from the Schoenefeld airport in the German capital.
For many of the Vietnamese, the trip home is the end of a long and difficult journey. Lured by the promises of smugglers, many of these would-be immigrants paid huge sums of money to get to Germany, only to submit an asylum application that in most cases was rejected.
Nevertheless, the number of new arrivals from Asian country is growing. And, not just in Germany, but also in neighboring Poland and the Czech Republic.
Asylum-seekers risk everything With few legal options, some undocumented Vietnamese immigrants turn to the black market
In the Berlin neighborhood of Marzahn, the Vietnamese community is divided into two groups. There are the successful businessmen, standing behind the counters of their florist shops and fast food stands. Most of these men were formerly guest workers, who have fought for years for their modest life in Germany. When a police car cruises down their streets, they appear pleased: Here come their customers.
Along the edge of the parking lot, stand another group of Vietnamese men – and here it is a different story. They are selling black market cigarettes and the uniforms and flashing lights set them into a panic, as they make their perilous getaways across busy streets and subway tracks.
These illegal street vendors belong to a new generation of immigrants. Their chances for a future in Germany are slim, says Tamara Henschel, head of Reistrommel, an organization that seeks to help Vietnamese immigrants in Marzahn.
"After Vietnam opened up, but even after the fall of the Iron Curtain, many Vietnamese who had never been abroad came to Europe," she explained. "In principle, it would be better for us and we would welcome it if people would stay in their home countries. If they didn't undertake such risky journeys, which are sometimes very dangerous, put these people into debt and ruin their lives."
Most asylum applications rejected
With little money and no work permit, the new immigrants often turn to illegal trade as a last resort.
Refugee organizations are protesting the unusual deportation from Berlin's Schoenefeld Airport. The Berlin Refugee Council quotes a report from Amnesty International that warns against returning asylum seekers to Vietnam where there is "widespread torture, political detention and use of the death penalty."
The German government's human rights commissioner is also concerned.
"The human rights situation in Vietnam is absolutely unsatisfactory," Guenter Nooke told Deutsche Welle. "I believe that people who can expect persecution and imprisonment in Vietnam should not be deported."
But of the refugees that have come to Germany in the last few years, very few — at least according to German public agencies and courts — have reason to fear political reprisals back in Vietnam.
Vietnamese represent the third largest group of asylum applicants in Germany, after Iraqis and Turks, but according to Volker Piening, Berlin's integration commissioner, only few are recognized as cases of political persecution. Vietnamese children do especially well in German schools
"The acceptance rate is roughly zero," he said. "That means that of this group of asylum-seekers, there is a very large group of people who no longer have a right of residence. This is why the Vietnamese share of deportations in recent months has been comparatively high."
About 85,000 Vietnamese live legally in Germany; the number of undocumented Vietnamese immigrants is unknown. Unlike this most recent wave of arrivals, the Vietnamese who arrived in the 1970s and 1980s succeeded in establishing a life for themselves. Those in West Germany were "Boat People" fleeing from the Communist regime; those in East Germany came as guest workers.
Their children are considered particularly ambitious and are accepted into Germany's college-prep high schools at rates higher than any other immigrant group, even higher than their German peers.
Bernd Graessler / hf
Editor: Kateri Jochum

FROM VIETNAM TO SPAIN: AN ILLEGAL JOURNEY COSTING EUR 18 000
06 December 2018
THIS NEWS/PRESS RELEASE IS ABOUT CYBERCRIME
View all crime areasThe Spanish Policía Nacional, with Europol's active support, arrested 37 members of an international gang charging 730 Vietnamese migrants EUR 18 000 each to be smuggled to Spain.
The irregular migrants were smuggled from Vietnam via South America and finally into the EU in groups of 6 to 12 individuals. Each group was led by an English-speaking smuggler who travelled with them from the beginning and facilitated the communication during the journey. The network received EUR 18 000 from each migrant, which could be paid using several payment methods: either they paid the amount in their home country, gave up their land and property, or they paid in kind once in Europe through unpaid work. It is estimated that the criminal network gained over EUR 13 million.
TEN HOUSE SEARCHES AND OVER 100 BEAUTY SALONS INSPECTED
After an eleven-month investigation, the Spanish Policía Nacional discovered that the migrant smuggling group was primarily based in Barcelona. The officers then searched ten houses and inspected over 100 beauty salons across the country. Law enforcement seized four vehicles, several devices and more than EUR 60 000 from the searches.
Altogether 37 individuals were arrested, among them European ringleaders and an official who worked at the foreign office in Huelva, southern Spain, and who had links with a Vietnamese businessman. Both individuals helped counterfeit residency documents for the migrants.
Europol supported the operation by providing full analytical support in the early stages of the investigation. During the coordinated operational activities, an expert from Europol was deployed for on-the-spot support with a mobile office and a Universal Forensic Extraction Device (UFED).

NUMBER OF VIETNAMESE IRREGULAR MIGRANTS ON THE RISE
04 December 2013
The Hague, the Netherlands
Facilitated illegal immigration is a significant threat to the EU and one of the key priorities of European law enforcement authorities in the fight against organised crime.
In recent months, the facilitation of Vietnamese irregular migrants has increased and the total number of investigations into this, with Europol's involvement, has doubled this year reaching more than 20 cases.
This recent increase is a remarkable change since the number of Vietnamese irregular migrants detected in the EU had decreased considerably following a number of large-scale investigations. A large operation in November 2011 was particularly instrumental in this and resulted in the dismantling of a key Vietnamese illegal immigration network active mainly in France and Germany.
Vietnamese irregular migrants use the whole range of available facilitation services. They are typically helped to enter the European Union illegally along the eastern land borders of the EU. Once on EU territory, they are facilitated onwards to their final destinations such as the UK, France, Belgium and Germany.
Typical prices for intra-EU facilitation range from EUR 4000 from Poland to the UK, to EUR 6000 from Belgium to the UK.
Europol's Serious and Organised Crime Threat Assessment 2013 (SOCTA) warns of a further increase in facilitated illegal immigration as irregular migrants are increasingly supported and guided by organised crime groups (OCGs). The OCGs involved in this criminal activity adapt quickly and exploit various vulnerabilities to enable irregular migrants to illegally enter, reside and work in the EU.
Certain OCGs specialise in providing fraudulent documents to facilitate illegal entry and Vietnamese irregular migrants often enter on fraudulently obtained visas of all kinds. OCGs obtain these visas by providing false invitation letters and other false supporting documents, or using corruption. A full package, including invitation and visa, can cost up to EUR 15 000.
Vietnamese irregular migrants have been found working in nail bars, as gardeners in cannabis plantations and as couriers for methamphetamine. Europol works closely with Member State authorities to monitor and follow up on this re-emerging threat and has recently warned them about this latest crime trend.
REVEALED: The SECRET route migrants are using to enter Europe
A SECRET route being used by Vietnamese migrants to enter Europe has been discovered by border guards.
By JOEY MILLAR

The route passes through Lithuania – far to the north of the well-trodden migrant paths across the Mediterranean and through the Balkans.
Border guards said criminal organisations are smuggling people from Belarus, which is not in the European Union, into Lithuania, which is a member.

Renatas Pozela of the Lithuanian State Border Guard Service revealed: "The transit route through Lithuania has been used for many years.

"We are also seeing constant attempts to open new corridors, mostly by Syrian and Iraqi refugees who are trying to reach Scandinavian countries."
GETTYThe Lithuanian route is not as popular as those via the Balkans or Mediterranean
Hundreds of those entering Europe via this route are Vietnamese citizens – many of whom had been working in Russia.
Due to an economic downturn in the country, many of these workers are now seeking employment in Europe. They travel from Russia to Belarus before Chechen smugglers help them into the European Union.
Migrants clash with police across Europe
Wed, February 15, 2017
Migrants clash with each other in over crowded camps across Europe.
EPA1 of 107
Moroccan Police look at immigrants trying to jump the six-meter-high fence in Ceuta, Spanish enclave on the north of Africa, 09 December 2016.
Mr Poleza said Lithuanian authorities were unable to do anything to stop the migration due to a lack of partnership with Russia.
He said: "The leaders of these criminal organisations are from Russian Federation. For various reasons, they're unreachable by our justice system."
GOOGLE MAPSMigrants are being smuggled from Belarus into Lithuania
Issues are also rife within migrant centres where arrivals of different cultural backgrounds come into conflict.
Aleksandras Kislovas, who runs a centre in Padrade in eastern Lithuania, said: "We are trying to prevent prison rules being brought into the centre, as well as limit conflicts arising from cultural differences."
The majority of migrants choose to enter Europe by alternate routes. During 2015, nearly 1.5 million illegal border crossings were made by the Balkans and Mediterranean routes.
The Eastern Borders Route, meanwhile, registered just 1,920 illegal border crossings.