Charles Aznavour,
French-Armenian singing star, dies at 94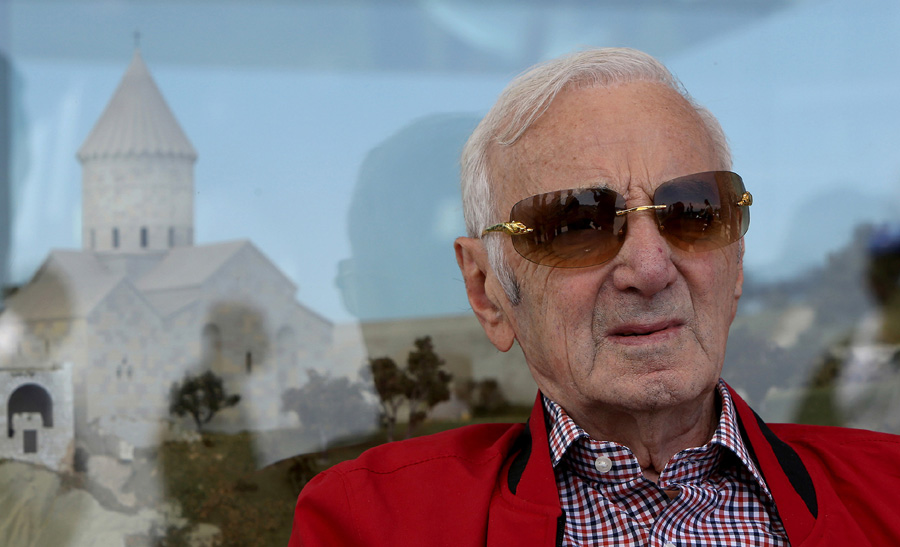 Je vous parle d'un temps
Que les moins de vingt ans
Ne peuvent pas connaître
I tell you about a time
those less-than-20 years-old cannot know about xxxx
Montmartre en ce temps-là
Accrochait ses lilas
Jusque sous nos fenêtres
Et si l'humble garni
Montmartre, at that time,
hung its lilacs right up to our windows,
even to our humble furnished (room)xxxx
Qui nous servait de nid
Ne payait pas de mine
C'est là qu'on s'est connu
Moi qui criais famine
Et toi qui posais nue
That served us as a (love-)nest –
didn't look like much
It was there that we knew each other
Me, crying hunger,
and you, posing in the nude xxxx
La bohême, la bohême
Ça voulait dire on est heureux
The Bohemian, The Bohemian.
That meant "one is happy" xxxx
La bohême, la bohême
Nous ne mangions qu'un jour sur deux.
The Bohemian, The Bohemian.
We only ate once every two days.
Dans les cafés voisins
Nous étions quelques-uns
Qui attendions la gloire
Et bien que miséreux
In the neighbouring cafes
We were some people
that waited for glory (fame)
and although miserable xxxx
Avec le ventre creux
Nous ne cessions d'y croire
Et quand quelques bistrots
Contre un bon repas chaud
with empty stomacs
we never ceased believing ..(
in it) and when some pub
in exchange for a warm meal xxxx
Nous prenaient une toile
Nous récitions des vers
Groupés autour du poële
En oubliant l'hiver
We accepted a painting (a canvas)
We recited verses gathered around
the stove forgetting about winter xxxx
La bohême, la bohême
Ça voulait dire tu es jolie
The Bohemian, The Bohemian.
That meant "you are pretty" xxxx
La bohême, la bohême
Et nous avions tous du génie.
The Bohemian, The Bohemian.
and all of us had genius (were geniuses) xxxx
Souvent il m'arrivait
Devant mon chevalet
De passer des nuits blanches
Retouchant le dessin
Often it occured to me
Before my easel
I spent sleepless nights
touching up the drawing xxxx
De la ligne d'un sein
Du galbe d'une hanche
Et ce n'est qu'au matin
Qu'on s'asseyait enfin
of the line of a breast
of the figure of a hip
it is not until to the morning
one sat down at last xxxx
Devant un cafté crème
Épuisés mais ravis
Fallait-il que l'on s'aime
Et qu'on aime la vie
before a café-crème exhausted,
but delighted It must have been
that we loved each other,
and that we loved life xxxx
La bohême, la bohême
Ça voulait dire On a vingt ans
The Bohemian, The Bohemian.
That meant "one was twenty years old" xxxx
La bohême, la bohême
Et nous vivions de l'air du temps.
The Bohemian, The Bohemian.
And we lived the spirit of the age xxxx
Quand au hasard des jours
Je m'en vais faire un tour
A mon ancienne adresse
When, some radom days
I go out and take a walk
to my old address xxxx
Je ne reconnais plus
Ni les murs ni les rues
Qui ont vu ma jeunesse
I no longer recognise
neither the walls, nor the streets
that saw (witnessed) my youth xxx
En haut d'un escalier
Je cherche l'atelier
Dont plus rien ne subsiste
At the top of a stairway
I search for the workshop
of which nothing remains xxxx
Dans son nouveau décor
Montmartre semble triste
Et les lilas sont morts
In its new décor Montmartre
looks sad And the lilacs have died. xxxx
La bohême, la bohême
On était jeunes On était fous
The Bohemian, The Bohemian.
We were young, we were crazy xxxx
La bohême, la bohême
Ça ne veut plus rien dire du tout.
The Bohemian, The Bohemian.
It doesn't say (mean) anything at all anymore.
French-Armenian musician Charles Aznavour has died at the age of 94, his spokeswoman confirmed.
The singer and songwriter, who had returned from a concert tour of Japan last month, died in his home in Alpilles in southeastern France.
He had to cancel several concerts last year after breaking his arm in a fall.
Sometimes described as France's Frank Sinatra, his career spanned over 80 years. His most famous songs include She and Dance in the Old Fashioned Way.
He sold over 180 million records and was named Entertainer of the Century by CNN in 1998. Aznavour recorded more than 1,400 songs and appeared in more than 60 films. He performed on stage into his 90s.
He was married three times and had six children.
Charles Aznavour, Singer, Actor, Humanitarian
Among France's most popular singers, Charles Aznavour is known as the country's Frank Sinatra. He was discovered by none other than Edith Piaf, who was so impressed by his voice that she took him with her on tour.
Origin
Aznavour was born in Paris, France. He was born Shahnour Vaghinag Aznavourian in  Paris, the son of Armenian immigrants. His parents were from Javakhk in modern-day Georgia and Smyrna in modern-day Turkey.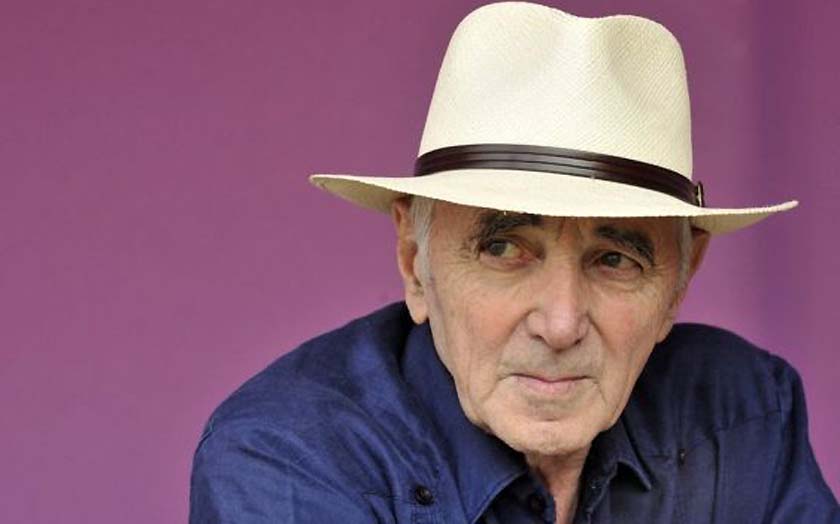 Claim to fame
He has been active for over 60 years, having written some of the most memorable French songs of the past century and establishing himself as one of the classic singers of the chanson genre. Besides his several solo tours, he has also performed with some of the most famous entertainers of the time, including Edith Piaf, Frank Sinatra, Ray Charles, Placido Domingo, Andrea Bocelli, Sting, Youssou N'Dour and Bob Dylan.
After the massive earthquake in Armenia in 1988, he led a significant humanitarian effort to raise awareness and funds for those stricken.
In 2009 he was appointed ambassador of Armenia to Switzerland and he also became Armenia's delegate to the United Nations in Geneva.
What he said
"I write songs like an author. I tell a story and if the story is a good one, then the song that comes from that is a good one as well."
"In my audience I have all religions, all colors, all incomes, all languages…I'm open to everyone who likes my songs."
"I say to young people, don't be too proud, just do the work."
What others said
"Entertainer of the century." – CNN/TIME Poll
A "French pop deity." – Stephen Holder, New York Times
"…considered one of the greatest singer/songwriters of all time…" – Huffington Post
"…France's most famous crooner…" – The Hollywood Reporter